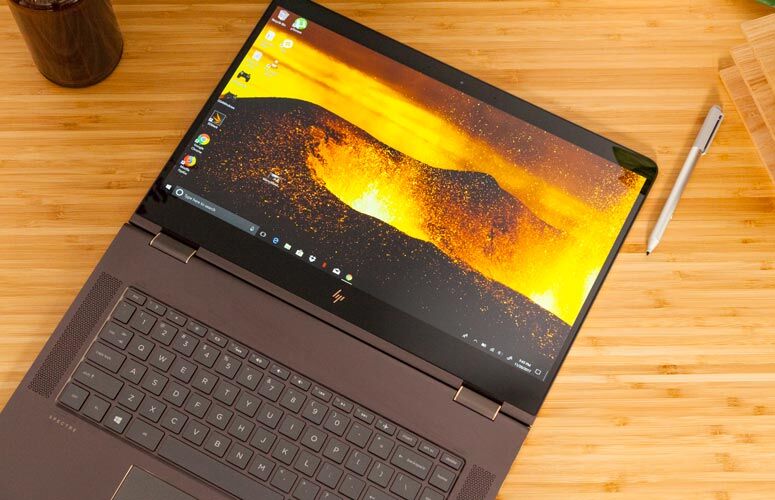 Top Highlights of the 2018 HP Spectre x360 15
HP has always been one of the frontrunners when it comes to 2-in-1 laptops. So, it's not a surprise that HP is the go-to brand of stores that sell laptop units and accessories for anything form factor. That said, there's always something that can be better, and with the new 2018 HP Spectre x360 15, the company seems to have found a plethora of things to boost and strengthen.
The 2018 HP Spectre x360 15 is not a redesign of HP's flagship. Rather, it's an improvement of last year's model. The HP Spectre x360 15 has two models – Intel-AMD and Intel-NVIDIA – that only differ in graphics and processor options. With the Spectre x360 15, the brand aimed to strike a balance between modern design and hardware that shows regard for legacy support.
Design
The new HP Spectre x360 15 unit exhibits more subtle and intricate design than what you first see in the smaller Spectre x360. It has a muted deep black body with delicate champagne gold-colored aluminum accents on its edges.
The Spectre x360 15 is a bit thicker to make way for the cooling system of its quad-core Intel processors. It also weighs slightly over 2 kilograms. You can barely notice the additional width, but you may immediately feel the weight of the laptop, especially when you're carrying it in your backpack.
But then again, HP had made far better use of the added weight. The additional space is filled with a new number pad. Also, the company placed a top-firing speaker just below the display for a much-improved volume option. The Spectre x360 15 can get up to 60% louder than the max volume of other HP units. To securely log in to your account, the laptop also has a fingerprint reader and a complete HD webcam with an infrared sensor.
Performance
Experts believe that the Spectre x360 15 can outperform laptops with the NVIDIA MX150 graphics. This assumption comes from the claim made by both Intel and AMD that they offer a boost on the NVIDIA GTX 1050-level performance. That edge is the result of their collaborative efforts.
With regards to longevity, HP guarantees that the laptop can last up to 13.5 hours of use on a charge. In addition, HP added fast-charging features into the laptop. The Spectre x360 15 can boost a 50% charge in just 45 minutes.
Connectivity
Apart from the balance between modernity and legacy service, the Spectre x360 15 also has a happy medium between choice and convenience. The latter is quite evident with the laptop's port selection. The Intel-AMD unit has two Thunderbolt 3 ports, a USB 3.1 port, an HDMI port and a headset jack (1). The Intel-NVIDIA unit has similar numbers of HDMI port, headset jack and USB 3.1 port, but it only has one Thunderbolt 3 port and an additional USB 3.1 port. Both models have 802.11ac Wi-Fi and Bluetooth 4.2 connection.
The HP Spectre x360 15 was launched last March. Both models are sold on the HP website. Price starts at $1369.