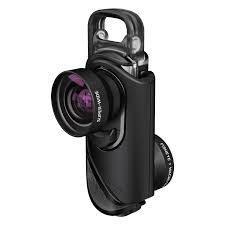 2018 Top iPhone Accessories
As powerful as an iPhone is, there are certain things it can't do by itself. For instance, it doesn't have the ability to stream music for a room packed with people. It can't solely revive its battery on a single charge after a day or two of constant use. Its camera can't take micro shots of things. To fully extend the power of an iPhone, you'll need smartphone accessories. But the sheer number of iPhone accessories available can be pretty overwhelming. Here are the most recommended accessories from stores that sell iPhone units.
Anker PowerCore 20100mAh Power Bank ($48)
Price: $48
A power bank is a vital accessory for your iPhone—or any handheld USB-charged gadget for that matter. The PowerCore is manufactured by Anker, one of the most well-regarded makers of chargers and batteries. The Anker PowerCore is a powerful portable charger. It can charge the iPhone 7 about seven times as effectively as a non-Apple USB charger.
The Anker PowerCore has two USB ports, so you can charge two Apple devices at the same time. It also has built-in short circuit protection to guarantee safe charging each time.
Nomad Rugged Cable
Price: $25
If you often bring your iPhone on outdoor adventures, then you need a cable that can withstand the elements. Known for its extreme durability, the Nomad Rugged Cable is the best one out there. Not to mention, it's also dirt-resistant and has sealed caps to keep debris out.
The Rugged Cable by Nomad is outfitted with a Lightning connector and a USB. It has a customized tie that is made from liquid silicone rubber. The tie makes it easy to stash away the cable, keeping it tangle-free. This cable works well with the iPhone 5 to the iPhone 8 units.
Price: $10
Some people use their iPhone as a listening device when exercising. The Tribe AB37 Sports Armband is a good-quality iPhone holster. The armband has two Velcro straps to suit any arm size.
Tribe AB37 armband is made using water-resistant neoprene and Lycra materials. As such, you can wear it even if you're sweating profusely or running in the rain. It also has complete touchscreen functionality. It sports a reflective strip for safety purposes, especially when you're running outside. The 1.5-ounce Tribe AB37 armband also has a hidden key holder.
Olloclip Core Lens Set
Price: $57
The market for camera accessories is becoming more and more saturated day by day. But arguably the best camera accessory for Apple phones is the Olloclip Core Lens Set. These are supplementary lenses that help boost your "iPhonography" to the next level.
The Olloclip Fisheye lens delivers a 180-degree circular effect, giving you an extra-wide view of your subject. The Super-Wide lens provides a broader visual field, so you can capture breathtaking landscapes. It has a wide-ranging field of view of 120 degrees.
The patented system of Olloclip effortlessly hooks up to any iPhone in mere seconds. You don't need an extra case to attach the accessory or download an app to use the lens.