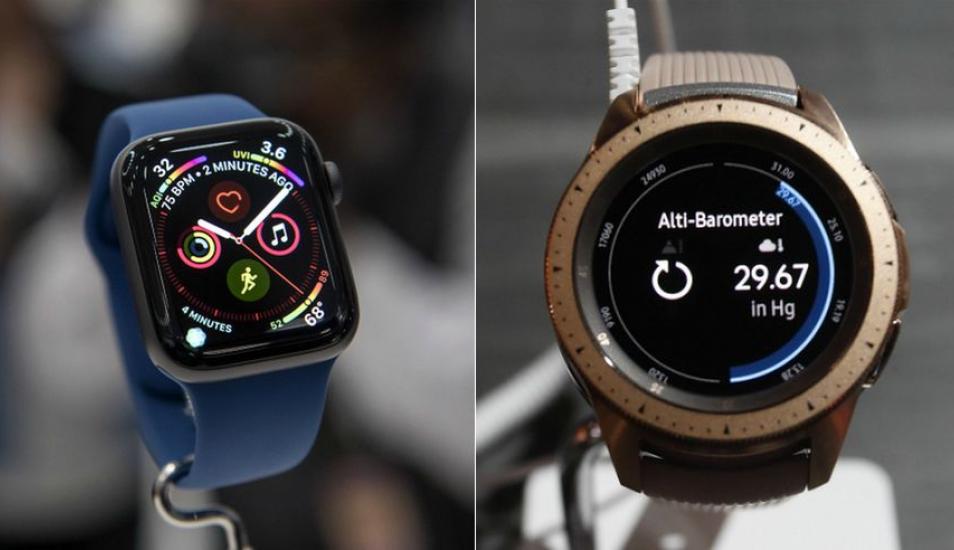 Apple Watch 4 vs. Samsung Galaxy Watch: Which is Better?
Apple has released its newest smartwatch – the Apple Watch 4. The latest model is the first FDA-recognized smartwatch, with a built-in electrocardiogram (ECG) and fall detection as part of its innovative features. The Apple Watch 4 is compatible with the iPhone 5S and later units, which means stores that sell iPhone units will not have a problem offering the watch to their customers with older phone models.
But Samsung also showcases its smartwatch – the Galaxy Watch, which boasts an extended battery life and built-in LTE.
While Apple and Samsung have markedly different approaches when it comes to smartwatch design, it all boils down to their performance and unique features.
To help you decide which smartwatch to go for, we reviewed and compare the features of both watches:
Design
Apple and Samsung each have aesthetic styles that are very different from each other. Apple retains its rectangular design with a touch screen, sort of like a mini-smartphone on the wrist. Samsung, on the other hand, takes on the traditional look of a timepiece for the Galaxy Watch – a circular dial, but with the smartwatch component of a touch screen display with a rotating bezel.
Apple offers two sizes for their Apple Watch, 40mm and 44mm, larger than previous versions. The smallest Galaxy Watch is 42mm in diameter, and the largest option is 46mm.
Samsung has 3 color options, but the 46mm size only comes in silver, while the 42mm comes in black and rose gold. Apple has silver, space gray and gold options with 3 types of finishes – polished, space black and stainless gold.
So as far as design goes, Samsung's Galaxy Watch will be more appealing to those looking for a classic watch design with a larger screen, while the Apple Watch will be ideal for those who prefer a more compact look.  
Fitness Features
Both smartwatches include heart rate monitors, accelerometers and exercise tracking. But Apple Watch is the first device to include an ECG monitor to check the heart's rhythm and activity.
Aside from that, the Apple Watch can detect if you took a potentially serious fall. It will automatically start an emergency call.
These highlight Apple's edge in health-tracking capacity.
Battery Life
The Samsung Galaxy Watch features the longest battery life in a smartwatch – 4 whole days without charging, although this could be affected by cellular connection.
Meanwhile, Apple has a far shorter battery span, with about 18 hours' worth of power without heavy usage, and just 2 hours talk time when connected to an iPhone.
When it comes to battery life, the Galaxy Watch wins over the Apple Watch 4, hands down.
Price
Apple puts a high premium over its products, and the Apple Watch 4 is no different. With a starting price of $399, additional specs would mean more money spent. Models that are offered under brands like Hermes reach up to $1,499.
Compared to Apple, the Galaxy Watch has a more conservative price range, starting from $330 up to $379.
The Verdict
The winner will ultimately rest on which smartphone team you align with – iOS or Android — and what features you value most in a smartwatch.
From what we've seen, Apple has far more superior health features and personalized options, but Samsung provides many of the same features that Apple can offer for a more reasonable cost.