Gaming Desktop vs Laptop: Which is Better ?
Give your gadgets a new life.

At Gadget Salvation, our mission is to contribute to the electronics reselling market as much as possible so that we extend the life of our gadgets and diminish waste. Our process is simple and seamless.
Answer a few questions and get an estimate.
Ship your gadget for free.
Get paid within two business days of our receiving your gadgets.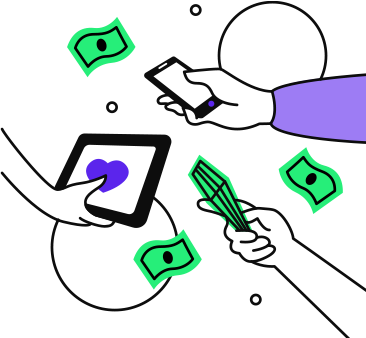 In this post we explore key differences between a gaming desktop and a gaming laptop.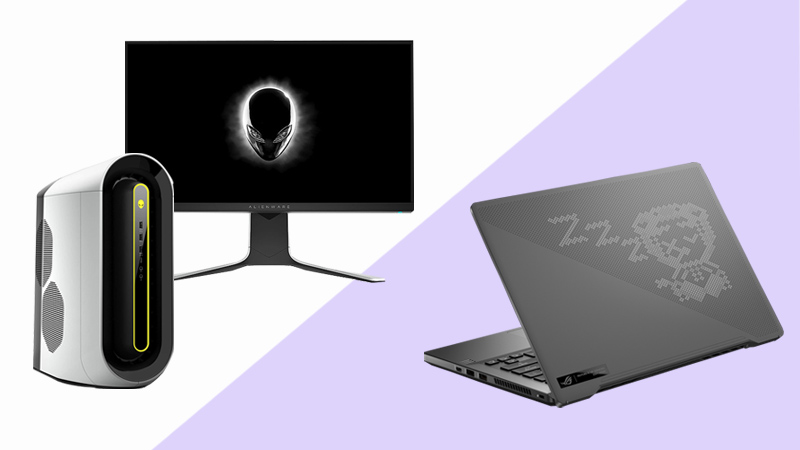 Gaming devices such as laptops and desktops are designed with high-end components to handle even the most sophisticated video games. However, both gaming desktops and gaming laptops come in different configurations, sizes and display quality options. Many gamers agree that a desktop is the best choice if you look for a superior performance and upgrade flexibility. Meanwhile, others appreciate the mobility of a gaming laptop. Below, we explore benefits of buying a gaming desktop versus a gaming laptop, as well as offer a few recommendations for playing AAA games.
Laptop Key Advantages:
Suitable for serious gaming
Portable
Convenient
Desktop Advantages:
The best option for high-end gaming
Wider range of I/O ports
Upgradable
Better price point for the value
Gaming Desktop vs Laptop: Portability
When we talk about portability, laptops are the first thing that comes to mind. Gaming laptops often come with powerful hardware and software that allows you to play AAA title games wherever you are.
On one hand, laptops give you the ability to play video games on the go. Even the biggest and heaviest of the gaming laptops, like the MSI GE75 Raider with 17.3-inch display, normally weight under 6 lbs and can easily fit into a backpack. Naturally, laptops come with built-in displays, keyboards and trackpads, so no accessories to carry. Unfortunately, desktop towers are less then portable due to rather large size and the need for a monitor. Desktops are designed to be stationary. While it is certainly possible to move your desktop around if needed, that's not a mobile gadget, by any means.
In a nutshell, if you are looking for a portable device, gaming laptop is a no-brainer. And if you have the right laptop and peripherals, you could benefit from doing the same things you do on a desktop, enjoying mobility as an added bonus.
Gaming Desktop vs Laptop: Customization
When it comes to customizing, any desktop computer is an obvious winner. Why? Because it enables users to build their very own bespoke towers by picking desirable compoments, selecting housing colors and styles. Another advantage of a desktop PC is its size. Tower offers more room for a decent cooling system, etc. For those new to desktop assembly, we recommend our What do you need to build a gaming pc? guide.
You can of course opt for a pre-built desktop, and still enjoy perks of upgradability and customization. For example, Alienware Aurora R10 Ryzen edition allows you to choose what you want to put into your PC before it's assembled, and lets you easily upgrade components, like RAM memory and storage, due to its tool-less chassis.
Unlike desktop towers, laptop computers do not offer the option of building from scratch. But when it comes to buying a gaming laptop, you are free to select components, like memory size, storage, CPU and GPU, and often even the display type. As for looks, you might have some options, like with the latest Asus Zephyrus G14, for example. Manufacturer allows you to add animated imagery or text to the showcase with the Anime Matrix min-LED display. But again, your choice is limited by pre-existing configurations.
In short, if you want customization, get the desktop tower. Not only you'll save some money, depending on selected compoments, of course, but you are also free to choose parts from different manufactures, and more importantly, there is still room for future upgrades.
Gaming Desktop vs Laptop: Upgrading
Upgrading a laptop is usually complicated, if not impossible, due to its compact design. Most laptop models have their processors, graphics chips and RAM soldered onto the motherboard nowadays, leaving no option for modifications and upgrades.
Some laptops brands, however, allow for a RAM and storage switch. Alienware Area 51m R2 is a good example. Unfortunately, those would be the only upgradable laptop components. But if you want to upgrade your GPU and CPU, then you are going to have to shop for a new laptop all-together.
Most gaming desktops are easily upgradable on the other hand. You can remove or add components. For instance, you can add certain hardware or organize cables, upgrade power supply, add or remove RAM chips, and more. The great thing about desktops is that you can replace or update parts without having to buy a new device. This means that an average lifespan of a desktop computer is significantly greater in comparison.
Overall, gaming desktops are a better option for those users who want to be able to upgrade if necessary, without having to spend a ton of money to do it.
Gaming Desktop vs Laptop: Performance
This perhaps is the most pressing concern for gamers. Even though there are plenty of seriously powerful gaming laptop options available on the market, desktops still win for a number of reasons.
First of, a gaming desktop is more powerful than a laptop, because it has bigger chassis allowing cooling fans to work more efficiently. This makes heat dissipate and improves system performance. Secondly, desktops use high-powered video cards that, again, require better cooling systems to avoid overheating. Also, you can use more than two graphics cards at the same time to achieve even better gaming performance. Lastly, manufacturers offer superior desktop parts and components for overclocking.
While gaming laptops have rather impressive mobile CPUs and GPUs, they are no match to their desktop counterparts, especially when it comes to AAA games. Yes, laptops do offer compact design and high portability, but it also limits the game.
With enough airflow to reduce the heat and therefore increase performance, a desktop is a better suited machine for competitive gaming.
Gaming Desktop vs Laptop: Monitor or Display
Many laptops have FHD screens with 60Hz refresh rate and 15-inch or 17-inch size diagonal. Those are great for gaming, as they won't immediately drain your battery. Many gaming laptop manufacturers now offer optional QHD displays. QHD allows for a better color accuracy, yet it will consume battery life. We suggest QHD vs FHD for gaming article for more details.
Bigger screen offers immeasurably better gaming experience, yet most gaming laptops are limited to a 17.3-in screen size option.
To summarize, even the largest laptop displays are too small, if compared to an average-sized desktop monitor. To enhance your game, an external screen is required.
Bottom Line
When it comes to serious gaming, desktops blow any most powerful laptop out of the water. Despite their portability, laptops may not be the best option, especially when it comes to upgrades. But what if you already have a gaming laptop and need more juice? Gadget Salvation trade-in might be of help. You can sell your used laptop online and use that extra cash towards your new desktop purchase. We have several expedited payment options to choose from: PayPal, Venmo, and Zelle/Chase Quickpay. If you have any questions, please do not hesitate to contact us.

Give your gadgets a new life
At Gadget Salvation, our mission is to contribute to the electronics reselling market as much as possible so that we extend the life of our gadgets and diminish waste. Our process is simple and seamless.
Answer a few questions and get an estimate.
Ship your gadget for free.
Get paid within two business days of our receiving your gadget.