Sell Laptop Online: Pandemic Edition
Give your gadgets a new life.

At Gadget Salvation, our mission is to contribute to the electronics reselling market as much as possible so that we extend the life of our gadgets and diminish waste. Our process is simple and seamless.
Answer a few questions and get an estimate.
Ship your gadget for free.
Get paid within two business days of our receiving your gadgets.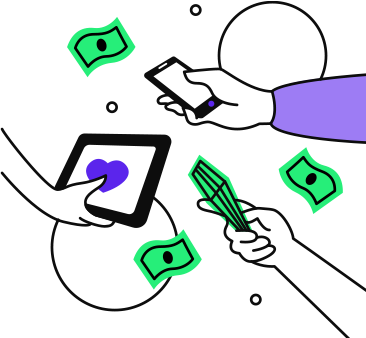 There were always plenty of options when it came to selling used tech. Most people traditionally relied on Craigslist classified ads, and more recently, on Facebook Marketplace and OfferUp platforms. Some prefer to drop off their old gadgets for recycling at their local BestBuy or Target stores. And some of us were selling their used laptops online all along.
How it Used to Be
One thing aforementioned places have in common is that you have to go out, see store clerks, meet with potential buyers, haggle, i.e., meet with people in person. And sure, while it might be not ideal for some, for example the risk of being conned is always there, it is (was) a good way to get rid of unwanted laptops, smartphones, tablets, etc. Until the pandemic hit and the world went on a strict lockdown. With everything closing down, selling used laptops online became the only option.
So What to Do Now?
Aside from growing anxiety of not knowing what to expect from this mysterious virus, we have suddenly and abruptly become limited in our movements and confined to our living quarters. And of course, getting rid of unwanted used laptops moved way down to the bottom of our priorities list. But not for some. Businesses were closing and people were losing their jobs. Suddenly, that long forgotten laptop that is still sitting in your drawer is viewed as a source of cash to make the ends meet. It still works, you still don't need it, and it should be worth something, right? But how would you sell it if you can't leave the house?
Apple Trade-in and BestBuy Trade-in are no longer an option, as they offer gift cards or store credit only. You can't beat it when it comes to upgrading your computer, but this time you need to get some cash. Apple users in particular had plenty of options when it came to used Macbook trade in. But that has changed. Now, you can't run around the city meeting randos trying to sell your laptop at a good price, as it is not safe, and in many cases is even forbidden. And you don't want to catch COVID. So you turned to Google in an effort to sell your laptop online.
Selling a Laptop Online
That's where online laptop buy back services step in. You can get an offer, check out, print a free shipping label to sell your laptop online in a matter of minutes. Right from where you are quarantining. There is an entire re-commerce industry dedicated to buying and selling pre-owned tech, and almost every city has some variation of the online trade-in service. But it doesn't even matter, because you don't have to live nearby to sell. Most people are unaware of the fact that this whole "sell laptop online" business exists, and may even view it as a scam, but there are plenty of established reputable companies out there to choose from. Here is the thing though: you have to do your research.
Things to Consider When Selling a Laptop Online
When you put "sell laptop online" into Google search, you will get a long list of Internet companies offering you a safe selling experience, to choose from. But just how safe is it?
We recommend to check the following:
How long was the company in business?
Are they BBB accredited and what's their BBB standing?
What other customers are saying?
Are they asking you for personal information, like bank account numbers or credit card information? (MAJOR RED FLAG!)
How quickly are they addressing your questions and inquiries?
The longer the company is in business, the better. Even if they are small and don't have a huge online following. If they are continuing to survive major competition (giant corporations like Apple!), they must be doing something right. Make sure to check their Google, Trustpilot, Reseller Ratings and Better Business Bureau reviews. Check if they have an established Facebook and other social media pages. Also, ask as many questions as you can before you commit.
You Narrowed Down Your Search, What's Next?
Some other important things to look for once you have a good pick are: valuation dollar amount and a variety of payment options to choose from. Naturally, you want to get the most possible value out of your used laptop and your instinct is to go with the highest offer. But if the offer sounds too good to be true, it probably is. How would you know? If it is significantly higher than the competition, proceed with caution. Cross reference the offer amount with current reselling price on marketplaces, because that's where your laptop will likely end up being sold anyways. If the offer is too close or even exceeds the current resale price, it is intentionally inflated.
When it comes to payments, choose the company that uses electronic services. That way you can get paid faster, instead of having to wait on the check to arrive in the mail. Most people are familiar and frequently utilize Venmo, Zelle, and of course, PayPal. Those forms of payment are instant, so as soon as the company sends you money for a sold laptop, funds clear on your end right the way.
Another Thing to Be on the Lookout for When Selling a Laptop Online
Many online companies will offer an option of dropping the device off. While you might be tempted to drive down there hoping for a quicker turn-around, we recommend shipping your laptop instead. Unfortunately, COVID-19 is still very much a thing and you want to keep your interactions with other people to a minimum.
When shipping the laptop, opt for contactless pick-up services or a drop-off if possible. As to packaging your laptop, let's face it, you have been relying on Amazon deliveries all though the pandemic, and probably have a box or two sitting around your house even now. If it is sturdy and is in good condition, meaning it has no damage, please reuse it, as opposed to going out and getting a new box at the store. Reusing shipping cartons and packing materials is a great way to minimize their carbon footprint and reduce greenhouse gas emissions.
Selling on Ebay, Pt 1
Sure, you absolutely can sell your laptop on eBay instead. But selling on this platform is a long tedious game, and not the safest one. First of, you have to really know the specs of the laptop you are selling. And most people are not tech wizards and have no idea about CPU speeds, video card types, screen resolutions, and so forth. If the laptop is no longer functional, you have to know what's wrong with it and be able to accurately describe the issue. You must disclose everything. You have to take good pictures for potential buyers. And once you've have done all that, you have to wait. Even if you are experienced selling on eBay and were able to get rid of your laptop relatively quickly, it does not necessarily mean you've got money in your pocket.
Selling on Ebay, Pt 2
Unfortunately, more often than not, you don't get to keep your hard earned money once you sold the laptop. With eBay, it is never a sure thing. For example, the number of fraudulent buyers on eBay has nearly doubled since the pandemic started. Brace yourself for potential returns, a possibility of getting the laptop back in far worse condition than it was in prior to sale, etc. So if you are willing take your chances, by all means sell the laptop on eBay. The choice is always yours, but we strongly advise you against trying your luck there. You don't need more headaches. And now that the states are easing pandemic restrictions as we continue into 2021, and you can probably even resume to sell used laptop in person.
Bottom Line
Since COVID-19 is still raging in full swing, selling laptops online is a far safer option than the traditional in-person dealings. And not to sound too self-serving and self-promotional, but we at Gadget Salvation have been buying used laptops and other electronics since 2008. And we'd like to think we have perfected the process since then. We try to make it as convenient, worry-free and fast as possible and have a multitude of satisfied customers who share their positive experiences on resellerratings. If you have any questions about selling your laptop online, please reach out, we'd be happy to hear from you and address any concerns you may have.
Stay safe and healthy, dear readers!

Give your gadgets a new life
At Gadget Salvation, our mission is to contribute to the electronics reselling market as much as possible so that we extend the life of our gadgets and diminish waste. Our process is simple and seamless.
Answer a few questions and get an estimate.
Ship your gadget for free.
Get paid within two business days of our receiving your gadget.