Acer ConceptD 7 Laptop: Creativity Decoded
Give your gadgets a new life.

At Gadget Salvation, our mission is to contribute to the electronics reselling market as much as possible so that we extend the life of our gadgets and diminish waste. Our process is simple and seamless.
Answer a few questions and get an estimate.
Ship your gadget for free.
Get paid within two business days of our receiving your gadgets.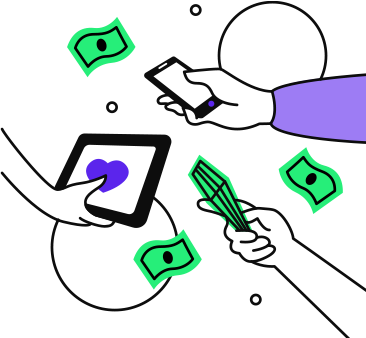 Acer ConceptD 7 laptop line revolutionizes portable computing, adding a brand new twist on digital creation.
Before we dive in, here is a quick visual pros and cons list of splurging on the new Acer ConceptD 7 laptop:
| | |
| --- | --- |
| The Good | The Not So Good |
| Lightweight but durable | PRICE! |
| Superior performance | |
| Nearly edges anti-glare screen | |
Acer took a think-outside-the-box approach when designing their ConceptD 7 series laptop. It has a striking appearance, yet in terms of functionality, it is more like your traditional laptop computer.
Acer ConceptD: Origins
According to Acer's marketing research, about 50% of gaming PC users utilize their devices not only to play video games, but also to work with creative software. And 15% never actually install games. Acer saw a gap to fill: the need for portable hardware that accommodates digital creators needs.
Thus, the ConceptD was born. Many people wonder what the "D" in its name stands for, as the word "Concept" is rather self explanatory. According to Acer, it is supposed to represent design, development, discovery, but really anything forward-thinking that resonates with You.
Whom is it For
Acer ConceptD 7 was created for web design and video editing. The brand is set to remove barriers between creators and technology. ConceptD devices are tested and certified by Independent Software Vendors (ISVs).
As we noted above, this laptop model is quite expensive, and we are guessing not many aspiring creators who are just starting out, can actually afford it. But we might have some good news: Acer has released another great laptop, which is significantly cheaper, yet has all essential components to unleash your creativity. We highly recommend checking out our comprehensive review of the Acer Swift 3X little laptop from last week.
So What is an Acer ConceptD 7?
In a nutshell, it is a mobile workstation. Just not your average kind. The model is packed with creativity tools and programs, specifically with designers in mind. ConceptD 7 offers Pantone-validated 4K display panel with narrow bezel, reinforced with the NVIDIA GeForce RTX 2080 SUPER video card. A dream came true for a graphic designer.
Internal Hardware
The latest Acer ConceptD 7 model comes with a 10th generation Intel Core i7-10875H processor 2.3GHz base speed, which can be overclocked to 5.1GHz. The CPU is supported by 32GB of DDR4 SDRAM RAM memory, two on-board slots. It is preconfigured with two PCIe solid state drives, 1TB each. As we mentioned above, Acer equipped their flagship device with discrete NVIDIA GeForce graphics: RTX 2080 for now, but we are hoping for the RTX 3000 series upgrade in the near future.
The model has a decent (and pretty standard) ports selection: you get four USB ports (two on each side), RJ-45 port, HDMI and mini Display for video output, separate microphone and headphone jacks, and lo and behold, a Thunderbolt 3 port! We have discovered that a lot of powerful gaming and work laptops actually lack this rather essential feature.
The Extra Awesome Acer ConceptD 7 Display
Acer ConceptD 7 screen deserves a separate feature. It's a 15.6" 4K panel, 3840×2160 resolution, and it seems to combine the impossible: matte finish (ComfyView) and extra vivid colors. IPS technology, 400 nits brightness and, of course, 100% Adobe RGB color gamut are responsible for such an outstanding performance. 81% screen-to-body ratio and narrow bezels make it a great digital canvas, although the bottom one could definitely be thinner.
Is the Battery Really That Great?
As for battery life, Acer claims it to last all day, but it sounds like a somewhat unrealistic promise, given the specs. Some users reported they were able to get a little less than 6 hours of continuous movies streaming out of it. We are still waiting on our first ConceptD 7 to give it a proper testing. All we know for now is that the laptop has a 84WHr li-ion battery pack and a 230W charger to go with it.
ConceptD 7: Available Models and Prices
Currently Acer has only one ConceptD 7 laptop configuration on their website and it retails for a whopping $3500 (!!!) + tax. Ouch.
The model comes in a beautiful white ceramic finish chassis, which is extra durable and stain resistant. Acer also offers a three months free Adobe Creative Cloud trial with all of their ConceptD laptop and desktop computers.
Green Packaging
In efforts to reduce the environmental impact of laptop packaging, ConceptD packaging is practically plastic free and is fully 100% recyclable. Acer uses recycled cardboard in box production and no longer puts chargers and manuals into plastic bags. Carrying sleeves, that the brand famously encloses with their laptops, are now made with recycled polyester. We are happy to learn that Acer takes the steps to help conserve energy and reduce greenhouse emissions. Perhaps us consumers should take it as an example and strive to cultivate zero waste habits in our daily lives as well.
Reselling Value
Since the reviewed ConceptD 7 model is fairly new, it would be difficult for us to estimate a reselling value of a used product at this stage. But if you already have a laptop and are wondering if it can help you offset the cost of your new upgrade, we got your back. You can sell your used Acer laptop online without leaving the house! Or any other laptop brand for that matter. Just check your Acer buyback offer IRL online. We offer quick and safe (virtually contactless) turnaround, and the variety of instant electronic forms of payment is an added bonus. But if you are old-fashioned, we mail checks, too!
Final Thoughts
Acer took time carefully developing their ConceptD line. They have done their research and put a lot of thought into creative mobile computing. And the ConceptD 7 workstation is a great example of that. The laptop is perfect for web and graphic designers, and in some cases can even help save a little money on extra tools and accessories, required for this line of work. But for someone who is an amateaur designer or a student, this might be an overkill. Acer ConceptD 7 is without a doubt a great fit for so many creatives in many different fields, if only everyone could afford spending this much on a laptop, regardless of how awesome it might be.

Give your gadgets a new life
At Gadget Salvation, our mission is to contribute to the electronics reselling market as much as possible so that we extend the life of our gadgets and diminish waste. Our process is simple and seamless.
Answer a few questions and get an estimate.
Ship your gadget for free.
Get paid within two business days of our receiving your gadget.