8 Essential Tips for Laptop Buyers
Give your gadgets a new life.

At Gadget Salvation, our mission is to contribute to the electronics reselling market as much as possible so that we extend the life of our gadgets and diminish waste. Our process is simple and seamless.
Answer a few questions and get an estimate.
Ship your gadget for free.
Get paid within two business days of our receiving your gadgets.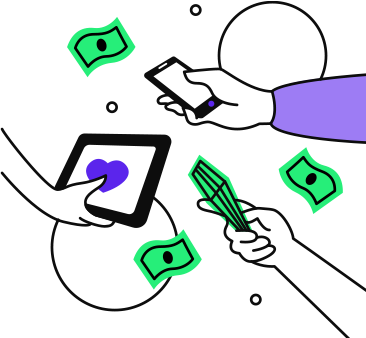 A comprehensive laptop buying guide for newbies and tech-savvy users.
We hope our guide will be helpful for laptop buyers and will navigate them through the basics to factor in when shopping for a new or preowned computer. So, without further adieu, here are the things to consider when shopping for a notebook.
1. Operative System
Choosing between a Mac and a PC largely depends on what kind of operative system (OS) you plan to use. Which, in turn, depends on the software you rely on in your day-to-day life and work.
Windows (for PC Laptop Buyers)
Windows is the most common operative system. In fact, about 80% of desktop users globally rely on it. We are all very much familiar with Microsoft software like Outlook, Office, Access, etc. Windows is designed for PCs, and therefore, if you plan on working in Windows OS, a PC device would be the most sensible choice.
macOS (for Apple Laptop Buyers)
The macOS is an excellent choice for casual laptop users and digital creators. Besides, macOS supports most Microsoft programs. Buying a MacBook makes sense if you already own an iPhone or an iPad.
Linux (Open-Source OS)
Linux is one of the most reliable, secure, and worry-free operating systems available. Besides, it is free to download and use. Furthermore, an Android is based on the Linux kernel. It is efficient, however, Linux is not meant to run MS Office or Adobe Creative Suite, for example. It does have its own open-source alternatives like LibreOffice, Darktable (Adobe lightroom replacement), and GIMP (Adobe Photoshop replacement), which would be acceptable for casual use. In a professional setting, though, these programs will not be able to replace Microsoft/Apple software.
Chrome OS
Chrome OS is a proprietary Linux-based operating system designed by Google. it mainly runs web-based applications. Therefore, any Chromebook, a Chrome OS-based laptop, is meant to run tasks in a web browser, namely Google Chrome. Typically, Chromebooks are low-cost underpowered notebooks suitable for those laptop buyers who are students or need a basic inexpensive device primarily for web browsing. But if you want to run apps like Adobe Creative Suite or Microsoft Office, then a Chromebook is not for you.
2. Choosing a Processor
The laptop processor (CPU) is just as important (if not more) as an operative system. The two most common processor types a laptop buyer will find are AMD and Intel.
AMD
AMD is a solid choice for those who want reliable performance but don't want to pay an arm and a leg for a laptop. Some even say that AMD Ryzen 7 CPUs beat Intel when it comes to gaming and video processing. Furthermore, AMD processors are compatible with most laptop hardware, like RAM, Wi-Fi cards, etc., and deliver high benchmark scores.
Intel
You can find an Intel Core processor in almost any laptop. These CPUs are highly efficient, but an Intel-based laptop will also cost more than an AMD counterpart. Intel releases a new generation of their Core CPUs every year, and we are on the 12th generation currently. Differentiating Intel Core processors by generation is very simple. First, pick your Core brand modifier (i3, i5, i7 or i9). And the generation indicator comes after the brand modifier, separated by a dash. The first one or two digits will tell a laptop buyer the processor generation. For example, Intel Core i7-9750H is a 9th-generation processor. Core i5-1135G7 would be the 11th generation.
3. Graphics Card
Every laptop has an integrated video card embedded into the motherboard. Any modern integrated graphics card is sufficient to watch movies in HD quality or even play a simple game.
But if you are a gamer or video editor on the market for a new work laptop, you'll need a model with a discrete graphics card (dedicated GPU).
Most Intel-based laptops get paired with NVIDIA dedicated graphics. Think a GeForce line–these are a power-efficient, laptop-friendly spin-off of NVIDIA's desktop cards.
The AMD's GPU line is called Radeon and ranges from the top-end Vega and RX cards down to R-series cards that mirror the Ryzen naming scheme.
4. How Much RAM Do I Need?
The RAM is usually called system memory, the dedicated hardware for temporarily storing and accessing information for immediate processing. If your laptop has more RAM, the more information it can use at any given time and the more things it can do. However, once RAM loses power, all held data is lost.
Ideally, you want at least 8GB RAM–this would be sufficient for an average laptop user. But if you're going to play a game every once in a while, get at least 16GB. 32GB and 64GB options are for power users who do programming, video editing, or hardcore gaming.
Another important thing to remember: Most laptops of today have their RAM soldered onto the motherboard. If that is the case, you won't be able to upgrade the RAM down the line. So, it would make sense for any infrequent laptop buyer to get the max RAM you can afford, as you will be using the device for years to come.
5. Storage Space
Most laptop buyers choose the SSD drive of at least 256GB because SSDs are faster, especially if they use an NVMe connection which moves data in and out of the hard drive much faster than SATA (older standard). So you'll see at least three times the speed and a much faster laptop overall.
6. Choose the Right Screen Size
11 to 12 inches:
The thinnest and lightest systems have 11- to 12-inch screens and typically weigh 2.5 to 3.5 pounds.
13 to 14 inches:
It provides the best balance of portability and usability, particularly if you get a laptop that weighs under 4 pounds.
15 to 16 inches:
15.6-inch is the most popular laptop screen size. Such a laptop would weigh about 4-5 pounds. Consider this size if you want a larger screen, and you're not planning to carry your notebook around often. 16-inch laptops are rare, but Apple might be on the trend with their 16-inch MacBook Pro version.
17 to 18 inches:
Larger laptops serve as tower replacements. So, if you don't plan on carrying it around and need processing power for playing high-end games or doing workstation-level productivity, then a 17.3-inch notebook is your best bet.
7. Keyboard and Touchpad
Getting a laptop with good ergonomics is crucial. For example, if you plan to do lots of work on your computer, make sure the keyboard offers great tactical feedback, plenty of key travel, and enough space between the keys. Also, check if the touchpad responds consistently to multitouch gestures like pinch or zoom.
8. I/O Ports
Focus on the ports the USB ports that you need. For example, MacBooks and other thinner laptops like Ultrabooks offer newer USB-C instead of traditional USB-A ports. As a result, USB-C ports are smaller, narrower, and rounder than USB-A. In addition, USB-C often features Thunderbolt 4 technology (40Gbps), USB 3.2 Gen 1, USB 3.2 Gen 2, and Display Port.
If you want to connect a second external monitor, you need a laptop with the right connections for that monitor, like USB-C, DisplayPort, or HDMI.
Bottom Line
Whether you are on the market for a new computer or shopping second-hand, we hope our laptop buying guide can help you navigate the many features and offerings modern technology comes with. Lastly, if you have an older laptop to sell, feel free to reach out for an instant offer!

Give your gadgets a new life
At Gadget Salvation, our mission is to contribute to the electronics reselling market as much as possible so that we extend the life of our gadgets and diminish waste. Our process is simple and seamless.
Answer a few questions and get an estimate.
Ship your gadget for free.
Get paid within two business days of our receiving your gadget.