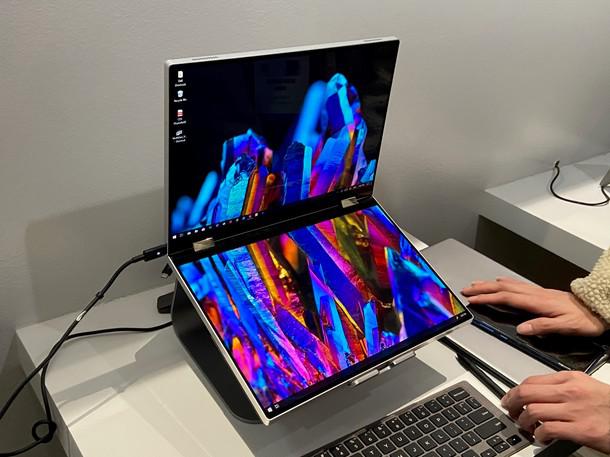 The Dell Concept Duet: Changing the Way You Work
While dual-screen and foldable laptops aren't exactly a new tech trend, the Dell Concept Prototype gives us something a little bit more interesting. Unveiled at CES 2020 along with the Dell Concept Ori, the Dell Concept Duet features a unique form unlike anything we've seen before.
Concept Duet Design
While Dell recently released the upgraded XPS 13, it made waves by launching two new prototypes: the Concept Ori, short for Origami, a foldable laptop which looks like a 13-inch tablet, and the Concept Duet, a dual screen laptop. As its name suggests, the Concept Duet is a dual-screen tablet connected by a hinge. There's no keyboard in sight, just two 13-inch FHD screens with thick bezels. Dell highlights the Concept Duet's capacity for greater productivity by way of multi-tasking: video chat with a friend while editing a file, work on a photo while reading articles on how to better edit photos, or pull up a map on the first screen and craft an itinerary on the second.
Keyboard
What about the keyboard? While it may seem like a tablet with the functionality of a laptop, the Concept Duet has a wireless external Bluetooth keyboard that you can magnetically snap onto its bottom portion or place in front of the Duet, leaving the remaining space on the bottom to be used as a virtual trackpad. Dell's digital active pens are also compatible with the Duet.
Performance
Because the Concept Duet is only a prototype, there is no available information regarding its software, features, and specifications. However, others are concerned about the compatibility of Windows 10 with a foldable device like the Duet. Dell didn't disclose any information regarding the Duet's processor but what's inside prioritizes power efficiency over performance. Screens use up a lot of power and with the Duet's two screens, it'll need a processor powerful enough to handle two working screens all at once.
Dell has not yet disclosed the Duet's battery performance as well.
Prices and Release Dates
There are no updates yet for its prices as it is only a concept device as of launching, and there are no updates regarding the components such as the OS, CPU, RAM, and GPU that Dell will include in the Concept Duet. There's also no guarantee as to when that we'll be able to get our hands on this device. It should also be noted that since this is only a prototype, many specifications are bound to change—but that's something we can look forward to from Dell.
If the Concept Duet does get released and you decide to get one, you won't have to worry about getting rid of your old laptop; sell your laptop online or do trade-ins and get extra credits or even cash for laptop units that aren't being used anymore.
The tech industry constantly introduces innovations. Dell's Concept Duet laptop is just one of them, signaling the direction that laptops may be going in the future.