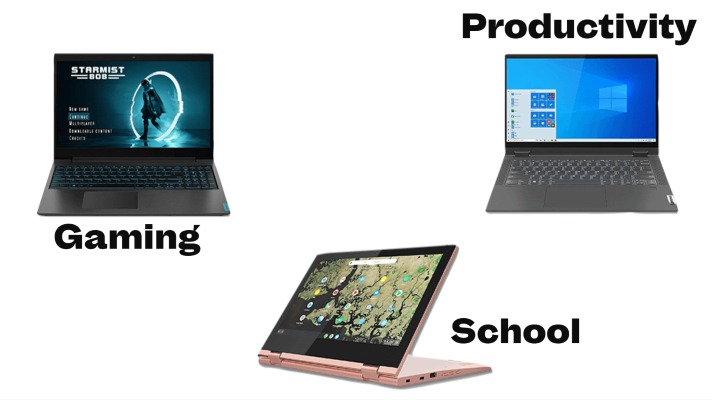 Best Lenovo Laptops of 2021
Give your gadgets a new life.

At Gadget Salvation, our mission is to contribute to the electronics reselling market as much as possible so that we extend the life of our gadgets and diminish waste. Our process is simple and seamless.
Answer a few questions and get an estimate.
Ship your gadget for free.
Get paid within two business days of our receiving your gadgets.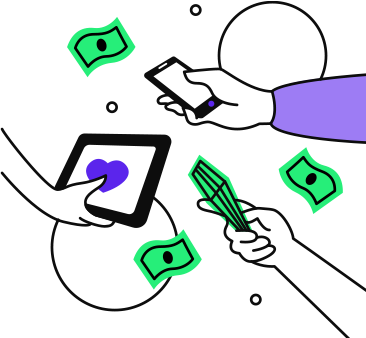 Lenovo laptops are great, there is no doubt about that. We have handled and reviewed many Lenovo models over the years and can confidently say that the brand makes consistently reliable devices.
In this post, we will highlight the best high-performance Lenovo laptops as well as some of their most budget friendly models.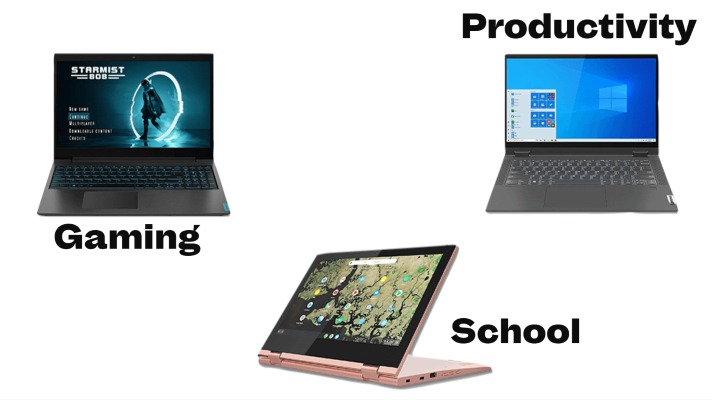 Lenovo laptops might not be the sexiest in terms of overall appearance, in fact the look of ThinkPad series laptops did not change much, if you look back, say 12-15 years. But that's what many users find appealing. These devices make great business laptops: no frills, nothing extra, just solid, old school even look and reliable performance. But we will be looking at several different series, highlighting their best features. OK, let's dive in.
Best in Performance and Portability
One of our favorite Lenovo Series is the ThinkPad Yoga X1.
Why the Laptop is Great
What it Lacks
Convertible 2-in-1 touchscreen
Very thin and light
Excellent hardware components offer great performance
Great battery life
Could use better graphics
Needs edgeless display
Rather expensive
The current 5th generation Lenovo ThinkPad X1 Yoga has absolutely beautiful minimal matte black finish; it comes with powerful 10th generation Intel Core i processors; it has a built-in stylus pen and offers a long-lasting battery life. Elegant design and great specs make it a very handy work laptop. We wrote at length about all of the Lenovo ThinkPad Yoga X1 Gen 5 features a few months back.
Another great laptop worth mentioning here is the Lenovo ThinkPad X1 Carbon 8th Gen laptop. The model offers outstanding performance, it is well-built and lightweight, weighing only 2.4 pounds, ThinkPad X1 Carbon is a perfect business laptop.
The line is Intel Core i 10th generation processors built, with integrated Intel UHD graphics chip, and 14-inch widescreen display (1080p or 4K). It can come with either 8GB or 16GB RAM memory, and offers 256GB, 512GB or 1TB solid state storage options. Those are configurable during checkout and cannot be upgraded later on.
Being a great performance laptop, the Lenovo ThinkPad Carbon could use better graphics, plus the 8th generation no longer has the SD card reader port.
These laptops are great for business professionals on the go, but if you are looking for something even more powerful and are willing to put up with a heavier and maybe even bulky laptop, we recommend checking our post on Lenovo workstations.
Best Lenovo Laptops for Gaming
Lenovo Legion series offer a wide range of great gaming computers, but one of our top picks has to be the Lenovo Legion 7i gaming laptop. It comes with a variety of 10th generation Intel processors, ranging from Core i5 to Core i9. It offers plenty of NVIDIA graphics options, up to 2TB of SSD storage. The Lenovo Legion 7i is capable of handling serious gaming, including the AAA titles, it looks great and is remarkably thin for a gaming laptop.
Another great Legion is the Y540 laptop. Once again, great for hard-core gaming, it is beautifully designed and can double as a mobile workstation. Even the 17.3-inch version is pretty light and very portable. Because we like this laptop model so much, we have already dedicated a whole separate blog post. Please check out our Lenovo Legion Y540 review, where we wrote about this great gaming laptop at length.
Lenovo Laptops for Students
Chrome-based devices are generally built primarily for school use, and Lenovo came up with a great device: Chromebook Duet 2-in-1 laptop. Affordability is the main requirement for educational equipment, and the Duet Chromebook might just be the best Lenovo laptop for the price. It is a smaller 10.1-ich ultra-portable computer with a detachable keyboard stand. The unit offers outstanding battery life, it comes with the FHD 1920×1080 touchscreen display, 4GB of RAM memory and 64GB eMMC storage. As to the processor, the laptop is powered by a less-known MediaTek Helio P60T chip. Performance-wise, it is very much comparable to the Microsoft Surface Go tablet, but is significantly cheaper.
We think this Lenovo laptop is best in its class, but if you are considering other brands, we wrote at length about laptops for college students a few months back.
If you are willing to splurge though, we have another great Lenovo option for you. It is a Yoga C940 2-in-1 laptop. Again, an Intel Core i 10th generation built, 8GB of RAM memory, 256GB and 512GB SSD drive options. Paired with the convertible touchscreen display, Lenovo Yoga C940 is not only a great choice for students, but it also performs great as a work laptop.
Lenovo Laptop Reselling Value
Used Lenovo laptops hold decent reselling value, especially the business series. And if this article has convinced you to upgrade, but you still have an older perfectly working laptop, we have some good news for you. Find out the current used Lenovo laptop trade-in estimate in real time, and if you like the offer, you can checkout right then and there, ship the laptop for free and get paid within two days of package delivery. We recommend not to sit on gadgets for too long, as they quickly depreciate. Especially considering the brands put out newer models on the market three times a year, on average. Every new release results in a significant price drop of its previous versions, even if they came out less than a year ago. Furthermore, reselling of the used tech is one of the best ways to reduce their carbon footprint.
Bottom Line
With so many different laptop options currently available on the market, it can be difficult to choose the right one for your needs. Lenovo is an internationally recognized tech brand that has been consistently making outstanding laptop computers. Lenovo laptops are truly some of the best performing in many areas, from home use, to graphic design and gaming. Being so incredibly versatile, Lenovo laptops are best suited for a large number of consumers. These devices often offer a rather minimal look in terms of design, but we definitely view it as a merit. Lenovo is all about performance and they won't distract you with unnecessary gimmicks. And while offering some quite expensive powerhouse devices, Lenovo brand is one of the most affordable on the laptop market.

Give your gadgets a new life
At Gadget Salvation, our mission is to contribute to the electronics reselling market as much as possible so that we extend the life of our gadgets and diminish waste. Our process is simple and seamless.
Answer a few questions and get an estimate.
Ship your gadget for free.
Get paid within two business days of our receiving your gadget.