Razer Laptop Trade-In: Everything you Should Know in 2023
Give your gadgets a new life.

At Gadget Salvation, our mission is to contribute to the electronics reselling market as much as possible so that we extend the life of our gadgets and diminish waste. Our process is simple and seamless.
Answer a few questions and get an estimate.
Ship your gadget for free.
Get paid within two business days of our receiving your gadgets.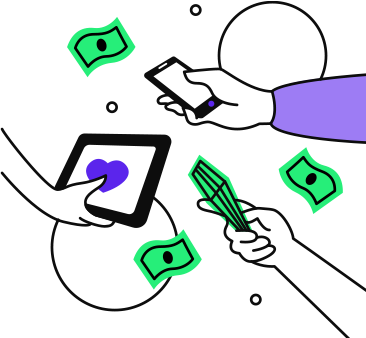 If you feel that your Razer laptop no longer meets your gaming needs, it may be just the right time to sell it. Trading in a Razer laptop is much easier in 2023 than ever.
The reason is simple: You can now sell your old Razer laptop for cash online in just a few minutes.
In this guide, however, we will not just analyze the process you need to do to sell your used Razer. We will also take a look at the benefits of selling your used device and help you prepare your Razer for sale.
Ready to sell your old Razer laptop for the best possible price? Let's find out how!
Selling Your Old Razer Laptop: Step-by-step Process
Say you want to get that brand new Razer Blade 16 but don't know what to do with your older Razer computer. And because currently, you have no option to trade it in on the official brand website, reselling elsewhere is the way to go. Luckily, selling a quality used gaming laptop, like Razer, can be a very simple process. However, selling your device comes with certain risks. For example, if you are trying to sell your Razer Blade, you most definitely want to make sure that you get a fair price for it. At the same time, you should avoid possible fraud from a shady buyer.
Fortunately, in 2023 there are several ways to overcome such risks. All you need to do is proceed methodically. In other words: If you follow the process below, you will be able to sell your used laptop in no time.
If you want to quickly and safely trade in your Razer, you need to:
1. Conduct research: Find the most reliable online marketplaces that buy Razer laptops for cash.
2. Pick the most reliable and tested marketplace
3. Answer some questions about your Razer laptop and find out how much it's worth
4. Prepare your device for shipping
5. Sell your Razer for cash
Remember, this was just a brief overview of the steps you need to follow. But before we delve deeper into this process, let's have a look at the benefits you'll enjoy when you decide to start trading in your used electronics.
What are the Benefits of Selling or Trading a Used Razer Laptop?
The good thing about Razer laptops is that they tend to hold their value for much longer than most other household names brands, like Dell or HP.
After all, a gaming laptop that you'd like to upgrade could be the best option for another gamer. So, your used Razer will probably have a (more than) reasonable valuation because of that. Especially if it's in great cosmetic condition and it's fully functional. But that's not just it.
There are multiple reasons why selling or trading a used Razer laptop is a smart choice for you:
Selling/trading and buying pre-owned devices is environmentally friendly. By creating a circular economy, you actively help reduce carbon footprint and e-waste.
In 2023, the process will be simple and quick, and if you research properly, the price you get will be reasonable.
If you sell your old Razer gadget, you can save money on upgrading to a more powerful and newer laptop like the latest Razer Blade 16 or Razer Blade 18 series with the most powerful RTX 4090 graphics to date. Alternatively, you can opt for another electronic device (such as a smartphone) or save up for anything else you can think of.
How to Sell a Razer Laptop Online in 2023?
Now that we have answered the why let us move on to the how. Nowadays, most people use trusted online marketplaces to trade in their used laptops immediately.
In the US, several companies actively buy up used Razer laptops at a fair price. However, not all of them are equally reliable and verified.
Let us take a look at how you can quickly trade in your Razer laptop through the Gadget Salvation platform. We promise the whole process is quick, easy, and rewarding.
Gadget Salvation: Sell your Razer Online for Cash
Through our GadgetSalvation.com platform, you can either sell or buy pre-owned electronics. When it comes to selling a Razer laptop, our marketplace comes with multiple advantages:
You can get an instant valuation of your Razer Blade just by answering a few questions about its condition.
You'll get a fair market price.
The process is quick and easy. You will be paid within one day after we receive your Razer Blade laptop.
Our platform allows you to choose between multiple payment methods and pays you in cash.
By selling your Razer to Gadget Salvation, you help us continue actively helping the environment. Since 2008, our company has saved thousands of gadgets from landfills.
The Quick Process
The process of selling a device to Gadget Salvation is the same, no matter if you're selling a Razer or other PC laptop, an iPhone, or a tablet:
First, you'll have to find your Razer laptop model by using the search bar at the top of the Gadget Salvation homepage.
After you find your device, you'll be called to answer some questions about its cosmetic condition and functionality.
The platform will then generate an instant offer for you.
If you're happy with our offer, you can ship your laptop to us via UPS.
After we receive and check your Razer, we will send you the payment via PayPal, Venmo, CashApp, Zelle, or check.
With the process covered, there's only one thing you need to know before you trade in your Razer laptop. Let's see how you can prepare and ship your device to Gadget Salvation.
Preparing your Razer Laptop for the Sale
Before you drop off your Razer laptop at a nearby UPS store, clean it with a soft cloth. You can always reset your laptop to OS (Windows 10, Windows 11) so we can check your device faster and proceed with the payment.
Afterward, you must pack your Razer laptop securely, as shown in the photo below. Be sure to use plenty of cushioning material to protect your device. Now you need to send it in with our prepaid postage. Get ready for payment!
Summary
Razer laptop trade-in is now a very easy and risk-free process. And because the brand does not have a trade-in upgrade program in place, reselling for cash is your best bet. After conducting some market research, you can pick one of the available marketplaces and sell your laptop through them.
Here at Gadget Salvation, we offer a fair evaluation of your computer (or other gadgets), a convenient selling experience, and fast payments. In just a few minutes, you can use our platform to learn how much your laptop is worth and decide whether you want to sell it or not–no contracts or obligations!

Give your gadgets a new life
At Gadget Salvation, our mission is to contribute to the electronics reselling market as much as possible so that we extend the life of our gadgets and diminish waste. Our process is simple and seamless.
Answer a few questions and get an estimate.
Ship your gadget for free.
Get paid within two business days of our receiving your gadget.