The Digital Backpack: How Students Are Using Gadgets to Organize Their Educational Lives
Give your gadgets a new life.

At Gadget Salvation, our mission is to contribute to the electronics reselling market as much as possible so that we extend the life of our gadgets and diminish waste. Our process is simple and seamless.
Answer a few questions and get an estimate.
Ship your gadget for free.
Get paid within two business days of our receiving your gadgets.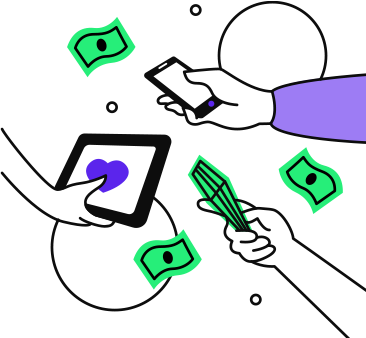 In the internet era, digital devices are playing an important role in the lives of students. They support learners in their daily social lives and enhance a shared learning process. Moreover, technology tools for students give them access to learning resources. Learners install different online tools on their devices to help them stay organized. Calendar systems help them manage their time and become more efficient. They use tools for taking notes, listing things to do, or planning their research well. Due to this, they use their time well, plan things, and meet their writing deadlines.
The evolving role of digital devices as organizational tools for education
In the past few years, tech tools for students have gained popularity. They have become powerful tools that help enhance the education experience in many ways. In the classroom, learners utilize smartphones, tablets, and various apps to streamline their academic tasks. They use them to take notes, schedule research, and for collaborative projects. Educators generate teaching materials and share them. Learners use tools to collaborate during study or research for college tasks. One of the main benefits of digital tools is helping students stay organized.
Scheduling applications and calendars helps them break down their study schedules. They add reminders for research paper deadlines. Digital tools help them organize their study materials in priority order.
The tools help break their educational tasks into smaller manageable chunks and create priority lists. They use applications to avoid distractions and to help them refocus themselves. Above all, digital tools help students organize their time. When a student is organized, they can know which tasks to do first and which ones to do last. They can also know if they have enough time for each. This way, they may decide to get professional help offered by pro essay writers from Edubirdie platform. Experts help them never to miss a research paper or essay deadline. They also get well-organized papers free from plagiarism.
How digital tools enhance productivity and time management for students
While in college, learning how to be an organized student is important. Digital tools allow learners to install an unlimited number of applications and tools. They help them create streamlined study habits and collaborate with educators and students. Learners use them to access essay or research paper examples for enhanced writing. Digital tools offer many benefits to college students.
Access to educational data and resources
Access to resources and information is important in student learning. Connected digital tools help learners explore different topics and do research. They access vast amounts of educational resources beyond hardcover books. They access digital libraries, online platforms, and short online courses.
Enhanced student productivity
Through tools and tech in the modern world, learners embrace collaborative activities. They share thoughts and ideas across different platforms. When they work on projects such as a research paper, they break tasks and organize them. They use focus-based apps and productivity-tracking apps to monitor their performance.
Improving time management for students
Proper time management can help learners to improve their study time and performance. Many technology tools for students help them manage their time well. Examples include apps for creating schedules, to-do lists, and reminders.
Potential challenges related to digital device usage in educational contexts
Undoubtedly, tech tools for students enhance the value of education and experiences in learning. Nevertheless, technology usage presents various challenges in educational contexts.
Devices present differing capabilities
Mainly, students bring their tools to school. They help them learn how to be an organized student. However, each tool offers different capabilities. One learner might be using a top-notch device while another is using an average-cost device. The average cost tool might lack most features in the top tech list. Their speeds will differ significantly, including what the users can do with them.
Lack of technical support
Many ed-tech productivity applications may require expert configuration. Students may lack the technical knowledge to help them with all the benefits of the apps. Educators might also lack ICT knowledge to offer learners support when they need it.
Lack of self-discipline when using technology tools for students
Many learners may get distracted when using tech tools. Instead of focusing on education productivity, they might end up focusing on:
texting
chatting
playing games
watching content
This can affect their time management effectiveness and performance.
Considerations to make when using digital tools in education
When using tech tools for students, there are several considerations to make.
The tools should promote student engagement and participation in education.
They should make learning fun
Choose applications that do not differ much in their capabilities
The applications should be customizable and promote interactions
Digital tools need to be relevant and easy to use
Practical tips for students seeking to optimize their digital tools for academic success
Digital tools inspire learners to engage with higher creativity and critical thinking. However, to get the best outcomes from their use, students need to consider the following.
Connect with other students. Staying connected with like-minded learners can help you stay motivated. You can learn tricks for using your gadget more productively.
Keep your devices clean. Avoid installing too many apps. They will limit your device's performance.
Prepare a productive learning environment. Using digital tools in a noisy or busy environment can lower productivity. Choose to use them in a quiet or less distractive place. You can complete your research paper writing or other tasks with peace there.
Develop ways to keep yourself motivated. A lack of progress can demotivate you—schedule time for breaks when you are listening to music, playing a game, or just relaxing.
Practice digital declutter. Go though your files regularly to organize and optimize your learning flow. Besides, erasing redundant content will make you more productive and free up some storage space.
Learning from real-life examples of using technology for academic success
Many students have used tools and top tech to achieve academic success. Examples include using technology to create presentations or practice typing. Use your gadgets for research or improving grammar in your research paper. Watch educational webinars or join other students in an engaging educational video conference. You may use AR to immerse yourself in learning. The other things that can help you enhance learning are:
gamified learning
online libraries
remote courses
digital field trips
Conclusion
Electronic gadgets boost learner engagement and interaction. They offer new ways of learning and enhance collaboration. Students need to be careful when choosing a gadget for learning. It should offer enhanced connectivity and features. Users need to overcome technical challenges by seeking help from experts. They need to create a conducive environment for learning through gadgets.

Give your gadgets a new life
At Gadget Salvation, our mission is to contribute to the electronics reselling market as much as possible so that we extend the life of our gadgets and diminish waste. Our process is simple and seamless.
Answer a few questions and get an estimate.
Ship your gadget for free.
Get paid within two business days of our receiving your gadget.