Verizon Phone Buyback: Seller Options
Give your gadgets a new life.

At Gadget Salvation, our mission is to contribute to the electronics reselling market as much as possible so that we extend the life of our gadgets and diminish waste. Our process is simple and seamless.
Answer a few questions and get an estimate.
Ship your gadget for free.
Get paid within two business days of our receiving your gadgets.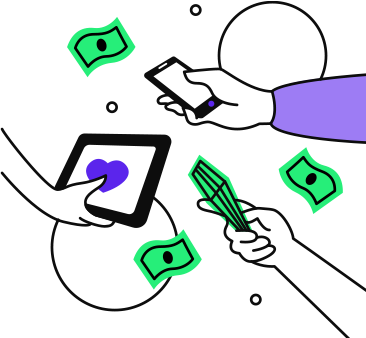 The new Apple iPhone 15 is here. The next Samsung Galaxy S smartphone release is around the corner. Are you ready to trade in that Verizon phone for a newer one? Would you prefer to sell it for cash instead? Either way, you've got options. But where to start? Keep on reading to find out.
BuyBack through Verizon Stores Network
While Verizon does not have a cash buyback, they do offer an online phone trade-in called the "Verizon Device Trade-In Program." It allows its customers to trade in their older or unwanted devices, such as smartphones, tablets, and smartwatches, in exchange for credit toward a new device or a Verizon gift card.
How to Trade in Your Phone with Verizon
1 – Specify which phone you are selling by selecting your specific make and model from Verizon's online drop-down menu of options. If you cannot find the exact match, visiting the store and consulting with the representative is best. Picking a model that you think is close enough to what you have might result in an offer adjustment or even transaction cancellation.
2 – The next step is to backup your phone and clear out all data stored on it. The process depends on your smartphone's make.
Related: Selling a Used iPhone: Basic Preparation Steps.
3 – Mail back your old phone to Verizon within 15 days of placing the sale order.
4 – Verizon will issue a trade-in credit once they receive your cellphone. They offer instant credit, account credit, or a gift card, all redeemable at Verizon only.
Smartphone brands accepted for trade-in: Apple, Samsung, Google, Microsoft, OnePlus, Motorola.
Brands accepted for recycling: HTC, LG, Nokia.
Other Options for Verizon Phone Buyback
You can sell your pre-owned Verizon phone through various channels, both local marketplaces and nationwide platforms. Here are some of the most popular options:
Online Marketplaces:
eBay: eBay is a popular online marketplace where you can list your phone for sale. You can set the price, include details, and wait for potential buyers to bid or purchase it at a fixed price.
Swappa: Swappa is a dedicated marketplace for buying and selling gently used tech devices. It's known for its focus on mobile devices, making it a great choice for selling phones.
Facebook Marketplace: You can list your phone for sale on Facebook Marketplace, where local buyers can see your listing and contact you. This can be a good option for local sales.
Craigslist: Craigslist allows you to list your phone for sale locally. Be cautious when meeting with potential buyers and consider safety precautions.
Online Buyback and Resale Services:
Buyback sites like Gadget Salvation specialize in buying and reselling used electronics, including smartphones. We provide instant online worth estimations and make it easy to sell your Verizon phone and other gadgets for an instant cash payout.
Local Electronics Stores:
Some local electronics or cell phone stores may buy used smartphones. Contact stores in your area to see if they offer this service.
Online Forums and Communities:
Websites like Reddit, dedicated phone forums, or social media groups related to buying and selling can be a platform for listing your phone. However, exercise caution and verify the credibility of the buyer.
Friends and Family:
Consider offering your working Verizon phone to friends, work colleagues, neighbors, or family members who might be interested in buying it.
How to Sell a Verizon Phone Online or Offline
When preparing your used Verizon phone for buyback, follow these steps for the successful completion of the transaction:
Prepare Your Phone:

Make sure your cell is in good condition, as this will affect its resale value. Clean the phone, remove any personal data, and ensure it is fully functional.

Check Your Contract:

If your phone is still under contract, you'll need to check the terms of your agreement. However, generally, selling a phone still under contract is not allowed. You will need to fully pay off the device before reselling it. You should also be aware that if you try to sell a phone while still under financial responsibility, you are likely to be subject to early termination fees or penalties as specified in your payment plan agreement.

Unlock the Phone (If Necessary):

Some Verizon phones are locked to the network. If your phone is locked, you may need to request an unlock from Verizon. This allows the buyer to use the phone with a different carrier.

Backup and Reset:

Back up your data and perform a factory reset to erase all your personal information. This is essential for privacy and security reasons. Also, smartphones still linked to users' accounts cannot be resold as those are deemed not usable for potential new owners.

Gather Accessories:

If you have the original box, charger, and any additional accessories, including the manual, include them. Having the complete set can make your phone more attractive to buyers.

Determine the Value:

Research the market to determine the current value of your phone. You can use online tools, trade-in programs, or check prices on websites like eBay or local classifieds.

Choose a Selling Platform:

You can sell your Verizon phone through various platforms, including online marketplaces like eBay or Craigslist, dedicated device resale websites like Gadget Salvation, or trade-in programs through Verizon or other retailers.

Create a Listing (If Applicable):

If you're selling your phone on an online marketplace or through a website, create a detailed and honest listing. Include high-quality photos and provide information about the phone's condition, specs, and any included accessories.

Finalize the Sale:

If on eBay or similar marketplaces, respond to inquiries from potential buyers promptly. Be prepared to negotiate the price, and once you have an agreement, finalize the sale.

Meet in a Safe Location (If Selling Locally):

If you're selling your Verizon phone in person, meet in a safe, public location, preferably during daylight hours and preferably at a local police station if you have any security concerns.

Complete the Transaction:

After you and the buyer have agreed on the price and met in person (if applicable), exchange the phone for the agreed-upon payment method (cash, PayPal, etc.).

Verify the Phone Works:

If you're meeting in person, verify that the phone works before finalizing the transaction.

Remove the Phone from Your Verizon Account:

Once the sale is complete, contact Verizon to remove the phone from your account. This ensures that the buyer can activate it on their own account.
Bottom Line
A Verizon phone buyback can be a straightforward process if you follow the preparation steps above. Whether you go through a Verizon Trade-in program or sell locally, always prioritize safety and honesty during the transaction. As a seller, you must be aware of potential scams or fraudulent buyers when using platforms like Craigslist, Facebook Marketplace, or OfferUp. Be sure to provide accurate descriptions, high-quality photos, and fair pricing. Lastly, remember: Your used Verizon cellphone has to be fully paid off before you can sell it.

Give your gadgets a new life
At Gadget Salvation, our mission is to contribute to the electronics reselling market as much as possible so that we extend the life of our gadgets and diminish waste. Our process is simple and seamless.
Answer a few questions and get an estimate.
Ship your gadget for free.
Get paid within two business days of our receiving your gadget.