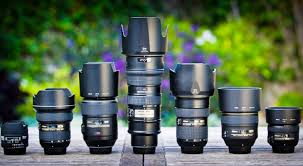 4 Camera Accessories Every Photographer Should Own
Photography is no doubt one of the most expensive hobbies to keep. But if that does not stop you from pursuing it, you can always find ways to lessen your expenses somehow. There are a few necessities that you should own, though. But no, you don't have to splurge on everything immediately to get started on your hobby. Just invest in a few specific accessories and eventually invest on the essentials like the following camera add-ons:
Tripod
This is a tool you will use at some point or another to capture shots steadily. Landscape, portrait, night, nature, street or wedding photography is best done with a tripod. It's also a handy accessory when you are capturing images using low light. A stationary camera hooked to a tripod can stand long exposures without blur or shakiness. The night sky, in particular, provides a perfect photo backdrop if you use a tripod capturing it.
Newbies can use a cheap one for a first tripod to lessen worry on breakage. The AmazonBasics 60-in Lightweight Tripod is a good choice as it's portable and relatively affordable.
Remote Shutter Release
A remote shutter release prevents shakiness or vibration and is often used with a tripod. It's a convenient tool since you don't have to touch the shutter of your camera to take a shot. You can choose between a wired and a wireless remote shutter release. There's not much difference between the two except the cable or the lack of it. The advanced remote has features like half-press, timer, and LCD screen.
There's one you can buy cheap – the Neewer Shutter Release Remote Control. It's recommended by the experts because it is compatible with several camera brands like Canon, Nikon, Sony and Pentax.
Speedlight or External Flash
A serviceable flash isn't just useful to take shots in the dark. There are a lot of ways to use a flash for perfect camera capture even if there is ample lighting. Do not just rely on the built-in flash of your camera. It is not enough. Try to shell out a few bucks to buy an external flash unit or a flash gun.
The affordable Yongnuo YN-560 IV Wireless Flash can serve you well with its power, features, and reliability. You can use this flash gun no matter how skillful you become in the future.
Memory Cards
In photography, it's more convenient to keep a lot of smaller SD cards with you than having one SD card with high memory. Having multiple cards can help you avoid headaches from memory card corruption or damage. It would be frustrating if, suddenly, you couldn't shoot because your memory card failed. If you do professional photography, a corrupt SD card can damage your business reputation.
To avoid this, buy the right kind of memory card for photography. Try the Transcend 32 GB Class 10 Memory Cards. The pack is compatible with all SDHC-labeled host devices and is friendly on the pockets, too.
Camera accessories can help you become better at photography. Invest on the right add-ons for the time being.