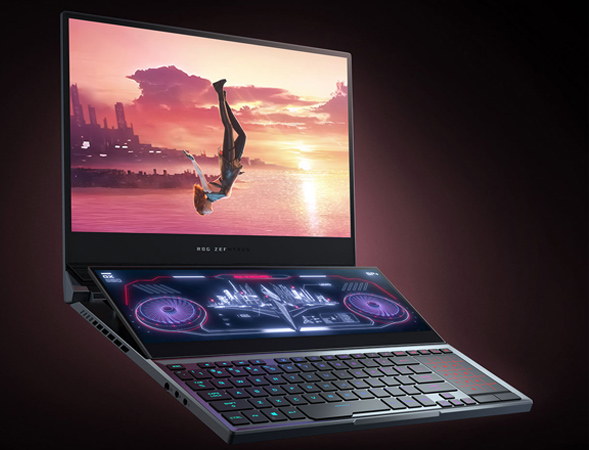 5 Best Dual Screen Laptops
We have listed 5 best dual screen laptops that adapts to different users.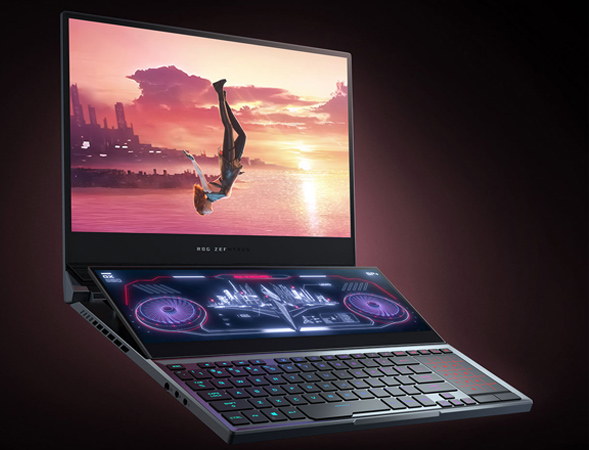 Dual screen laptops are perfect not only for creative professionals, business people but to gamers as well. Users benefit with a secondary screen allowing to optimize the way they interact with the interface. For instance, users can navigate through meetings at work or to work with multiple apps and windows. Also, dual screen laptops have 4K, UHD,FHD displays, have a ground-breaking design and it comes in a portable format.
However, there might be some details to consider before getting a dual screen laptop. To mention an example is the keyboard size, as it's a dual screen laptop, the keyboard might be smaller or even non-existent. This can be a little hard to get used to at first, but it provides portability due to lightness. Also, another important factor is the price. A dual screen laptop is pricier than a regular laptop like an Asus 14" ZenBook Duo at around $1500.
That said, here are our best dual screen laptop selections for the office or gaming.
Asus ZenBook Pro Duo UX581
The Asus ZenBook Pro Duo has a secondary 4K display which is known as the ScreenPad Plus. The dual screen laptop from Asus ZenBook Pro Duo is the biggest selling point and its most noticeable feature. It has a 15.6 inch 4K OLED touchscreen with 3,840 x 2,160 resolution that results in high quality image.
Plus, it has a Touch Bar and ScreenPad that is able to show whole apps. Its keyboard is located down to the front of the bottom half of the device, and the touchpad is at the right of the keyboard.
In addition, it has coupled with powerful components which makes them an expensive device. For instance, a model with 6 core Intel Core i7 9750H processor has a price of $ 2,699. Another version with an 8 core Intel Core i9 9980HK processor, has a price of $ 3,299.
The Asus ZenBook Pro Duo UX581 is thick and heavy, due to its dual screen. The dimensions are0.94 x14.13 x 13 x 9.68 inch (2.4 x 35.9 x 24.6 cm) and it weighs 5.51 pounds (2.5 kg).
Finally, some other specs are that it has a Nvidia GeForce RTX 2060 GPU, a RAM OF 8GB, 16 GB and 32 GB and up to 1TB of storage.
Asus ZenBook Pro Duo UX481
Asus ZenBook Pro Duo UX481 is a dual screen laptop with strong performance and a reasonable price. It has a 14-inch matte display with 1080p screen and a secondary 12.6-inch panel. The Asus ZenBook Pro Duo UX481 is perfect for video editors due to its high performance and long battery life. As well, it is a device for creative and business professionals who need to optimize the screen estate.
Furthermore, the main screen is amazing in terms of colors which are more saturated than usual, and it has a matte panel. The second screen occupied the top half of the Duo's deck and the keyboard is located on the front with a vertical touchpad.
Other specs from this device are: Intel Core i7 processor, a 16GB of RAM, a 1 TB SSD, Nvidia GeForce MX250 graphics and Harman Kardon audio. It has a price of $ 1,499 and weighs 4 lb.
Asus ROG Zephyrus Duo 15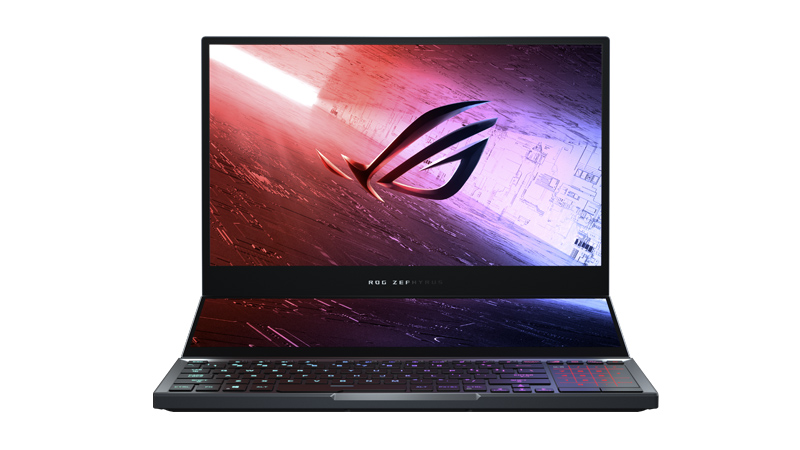 This dual screen laptop model Asus Rog Zephyrus Duo 15, is one of the top-end gaming devices due to it's efficient cooling and high performance on games. It features an ROG ScreenPad Plus secondary display with powerful components to ensure the compatibility with AAA titles. Also, this dual screen laptop is driven by Core i9 CPU, 4K display, 48GB of RAM, 2TB of storage as configured and Nvidia GeForce RTX 2080 graphics.
The Zephyrus Duo 15 is thinner and compact. It measures 0.82 by 14.2 by 10.6 inch (HWD) and weighs less than 5.3 lb which makes it a portable device. It has a blue-steel color with a metallic finish.
Furthermore, this device has a dual screen, which are the main and the secondary screens. The main one is 15.6 inch and it can be either a 4K 60 Hz panel or a 1920 X 1080p 300 Hz panel. The second display is built into the upper half of the keyboard deck and has 14.1 inch 60 Hz touchscreen with a resolution of 3840 x 1100. The Zephyrus Duo 15 has an Adobe RGB color space, which is more appealing for gamers. In addition, Asus provides a battery of 90W for a long lasting experience for gamers.
However, the downside is the cost. The most expensive model can cost you $3,699.99 with a configuration of 4K screen, a Core i9 10980 HK, 32GB of RAM, 2TB (RADI) and RTX 2080 Super.
HP Omen X 2S
The dual screen laptop, HP Omen X 2S, has a primary display of 15.6-inch LCD panel with a full HD resolution. It has a 144hz rate and is compatible with the Nvidia G-Sync. Its secondary screen has 5.98 inch 1080p multi touch screen with a RGB keyboard. This dual screen laptop has a strong performance and graphics.
This device is perfect for immersive gameplay. It has Intel Core i9 processor, 32GB of RAM, 1TN SSD and Nvidia GeForce RTX 2080 graphics with Max Q design. Plus, to enhance your gameplay it has an audio which is boosted by HP AUDIO BOOST 2.0 and DTS X ULTRA which assure you to not miss any audio details when gaming. This device weighs 5.18 lbs. and 0.78".
Lenovo ThinkBook Plus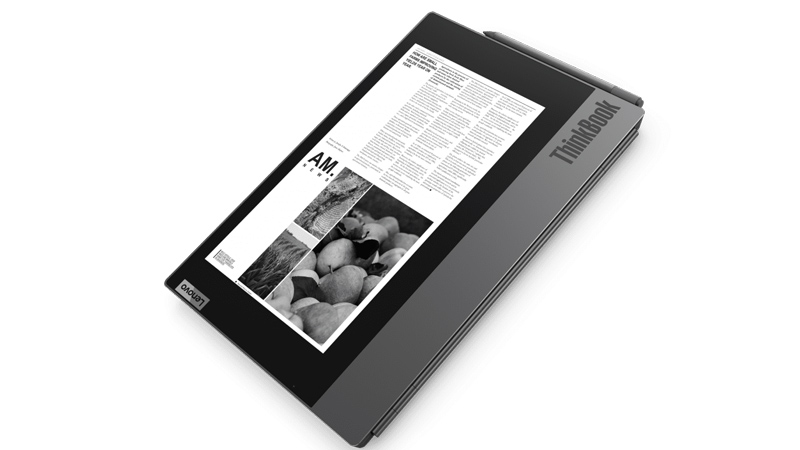 The Lenovo ThinkBook Plus is a multitask laptop. The novelty of this dual screen laptop is that you can take notes directly on the cover with the included stylus. You can even sync with OneNote and transform it into diagrams or text which enables you to save time during meetings for instance.
About the specs, the Lenovo ThinkBook Plus is driven by an Intel 10th Gen Core i7 processor with 8GB of RAM, a 256 m2 PCle SSD with 16 GB Intel Optane Memory and Intel UHD Graphics. It has a 13.3" FHD monitor and a 10.8" e-ink display and has a long battery life (estimated 10 hours). Furthermore, several security features are included. For instance, fingerprint readers in the power button and a physical shutter for the webcam. Plus, It has integrated Alexa if you need it and its price starts at $ 1199.
Conclusion
If you are looking for a dual screen laptop for gaming, then we advise to take the ASUS ROG Zephyrus Duo 15 or HP OMEN X 2S which are great choices. However, if you are looking for a dual screen laptop for a day to day work, better go for the Asus ZenBook Pro Duo UX581 or the Asus ZenBook Pro Duo UX481 which are worth considering.
If you are more into multitasking, get the Lenovo ThinkBook Plus. These are our recommendations, however, need to take into consideration your needs and budget before making your choice. In the case you have a gadget at home and you don't use it, you can visit Gadget Salvation site. They pay cash for your preowned gadgets such as laptops, smartphones, MacBook's and more.