How Can I Sell My Laptop Online?
Give your gadgets a new life.

At Gadget Salvation, our mission is to contribute to the electronics reselling market as much as possible so that we extend the life of our gadgets and diminish waste. Our process is simple and seamless.
Answer a few questions and get an estimate.
Ship your gadget for free.
Get paid within two business days of our receiving your gadgets.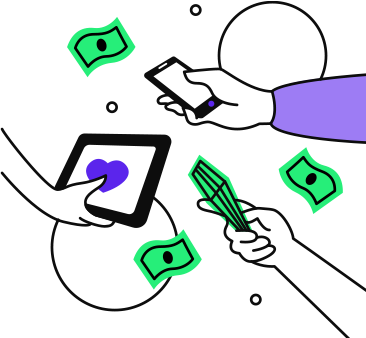 In this post we will guide you though the online laptop selling process step by step.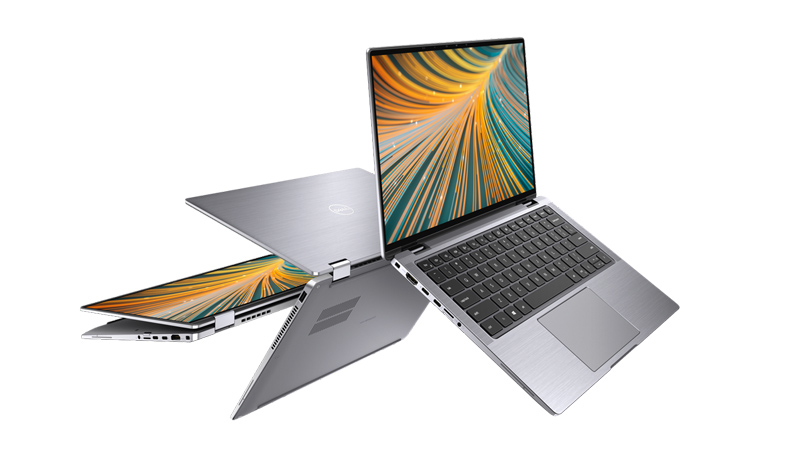 Whatever the reason may be, you made a decision to sell your used laptop. But you actually never done this before and have no idea where to begin. No to worry, we've got your back! Below we'll share a few great places to sell your laptop for cash or trade in for a gift card. As well as offer a few quick and easy tips on how to prep your laptop for sale.
What To Do First To Sell My Laptop?
Before you sell your used laptop to someone, there are some things you must do in order to get a good price for it. First, you have to properly prepare your laptop for the next user. This includes backing up and erasing all stored sensitive information.
You can use an external hard drive to transfer your files: this method is usually fast and efficient. However, if you do not have a spare drive, a cloud service can be used. The most popular cloud storage services are Dropbox and Google Drive. Both have free storage options when you create your account. But if you need more storage, you can pay to expend its size.
Once all data is saved, the next thing to do is to wipe your storage and reset the system to factory settings. Lastly, don't forget to clean your laptop from dust and dirt using a soft cloth to make it look "sellable".
What's The Trade-in Value For A Used Laptop?
Selling a used laptop for cash is a great way to make a few extra bucks, all while extending its lifespan and helping to reduce e-waste. Many people also choose to sell previous models of their electronic devices to offset some of the cost of a newer one.
Perhaps you are wondering "Where can I sell my laptop?" For one, you can trade it in, from the comfort of your own home. You can find plenty of buy-back services to sell your used laptop, iPhones, Xbox and more on the internet. Most places offer either cash or some form of store credit in return.
It goes without saying, you won't be getting the whole amount you originally paid for your laptop some time in the past. Why? First of, gadgets depreciate quickly. Plus, the reselling value for your used laptop or any other gadget, depends on factors like: brand, model, wear and tear, and it's functional condition.
Gaming laptops, for example, hold the best reselling value over time:
Used Alienware 15 R4 with Intel Core i7 processor and NVIDIA GeForce GTX 1070 graphics can get you up to $505 offer.*
Newer Alienware Area 51m R2 model with Core i9 processor and NVIDIA GeForce RTX 2080 card goes for up to $1530.*
With other Dell laptops however, their reselling value tends to drop faster, since the brand is so popular and is budget-friendly. You can find plenty of used Dell laptops being sold on aftermarkets, and because they are so readily available in large quantities, prices tend to go down quick in order to attract buyers. This is especially true with Chromebooks:
So, if you happen to have some unwanted tech, consider selling now, before it looses its value.
Where Can I Sell My Laptop Online?
We have listed a few places offering online trade-in services for cash or a gift card. They accept certain used laptops and many other types of gadgets.
Best to Sell on Your Own: OfferUp
It's a free mobile-driven local marketplace to sell and buy personal items, ranging from books, furniture to laptops and computers. In order to get an account you need to upload your ID and link your Facebook, for verification. The app displays big pictures of products through an infinite scroll design, like Instagram. All offers on the site are listed with at least one photo with information about the condition, location, payment and more. You'll be able to control everything from listing, taking pictures, valuation and more, for the laptop you are willing to sell. Although the service is free of fees, if you want your item to get more attention, you can pay to have it "featured". The app is available to download for iOS, Android and web.
Fast Cash Payment: Gadget Salvation
Gadget Salvation is an online platform that helps users to sell their pre-owned gadgets like laptops, iPhones, tablets, gaming consoles and more, for cash. The company offers a convenient contact less selling process, which is ideal during the ongoing pandemic. Also, fast payment is guaranteed, within two business days from the reception of your goods via Check, PayPal, Venmo or Zelle (Chase Quick Pay). Our service is the most convenient and fastest when it comes to selling your used electronics. We cover valuation, inspection and shipping service, without any extra cost. Plenty of our customers have reviewed us online via Reseller Ratings, Trustpilot, Facebook Reviews, so feel free to check those out!
Selling Laptop Online Step by Step
Sell your used laptop with Gadget Salvation is quick and easy. And we will illustrate it below:
1. Use our online database to find your brand, model and configuration. Simply type in the brand and model and hit the Enter key.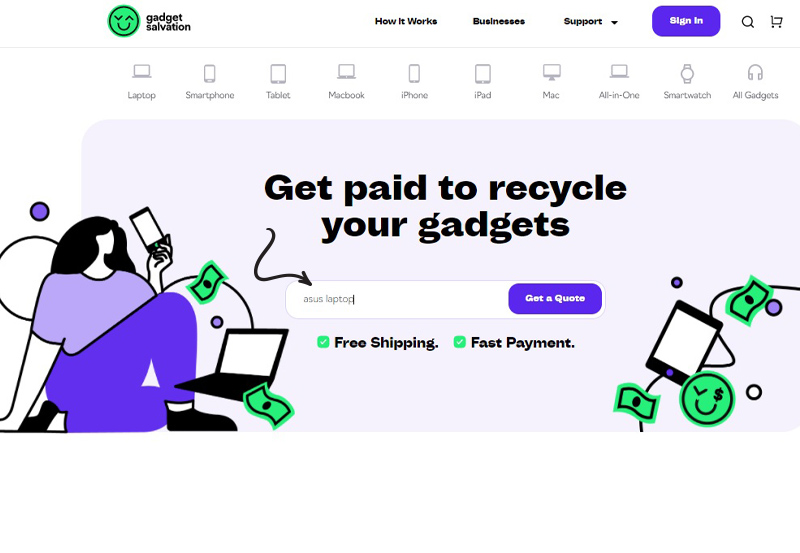 2. Answer a few questions about the cosmetic and functional condition of your laptop in order to get a real-time estimate. If you like the price, click on "Add to Cart" and then–"Get Paid".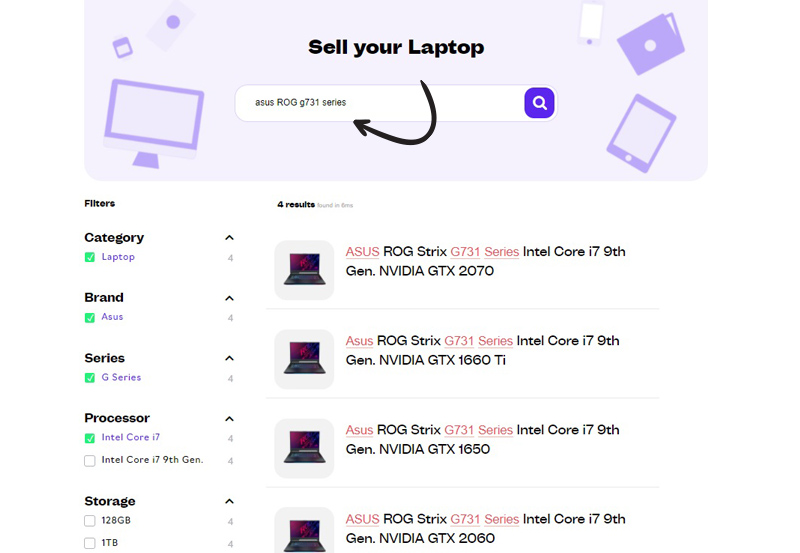 3. Complete the checkout form in order to receive your prepaid shipping label to send in the gadget.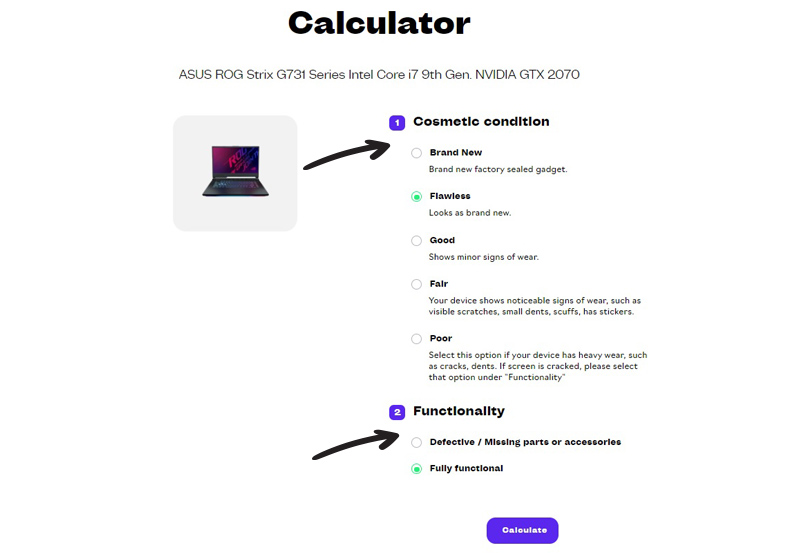 That was quick, wasn't it? And if you cannot find your model online, please do not hesitate to contact us, we will be more than happy to help you.
After receiving and inspecting your preowned laptop, we'll send the payment via the method of your choosing. And if it so happens that your device has no salvageable value, we will recycle it for you.
Payment with e-Gift Card: Amazon
You can trade-in electronic gadgets that are eligible through Amazon in exchange for an Amazon Gift Card. The company accepts cell phones, gaming consoles, laptops and more, and offers you the shipping label to send your goods. You'll need to look on their site, if your laptop brand and model is eligible to trade-in. Then, answer some questions about your device condition in order to get a quote. If you like the offer, accept it and send your goods. In around two weeks you will email an e-gift card upon a successful completion of the transaction. This option is great for users that purchase frequently on the Amazon website, as no cash payment is offered for your pre-owned gadgets.
Bottom Line
Nowadays the internet gives us so many tools and makes our life easier when it comes to selling used tech. You can choose to either sell your devices on your own, if you have time, or use a buy-back service. These services are designed to remove the hassle of listing, selling, haggling and more from the equation. There are a lot of online buy-back platforms out there, so do your research. And whether you decide to do business with us or someone else, we hope our article clears up some of your doubts and offers useful insights on used tech selling.
Priced on 05/25/2021. Subject to change.

Give your gadgets a new life
At Gadget Salvation, our mission is to contribute to the electronics reselling market as much as possible so that we extend the life of our gadgets and diminish waste. Our process is simple and seamless.
Answer a few questions and get an estimate.
Ship your gadget for free.
Get paid within two business days of our receiving your gadget.