How to Factory Reset an HP Laptop
Give your gadgets a new life.

At Gadget Salvation, our mission is to contribute to the electronics reselling market as much as possible so that we extend the life of our gadgets and diminish waste. Our process is simple and seamless.
Answer a few questions and get an estimate.
Ship your gadget for free.
Get paid within two business days of our receiving your gadgets.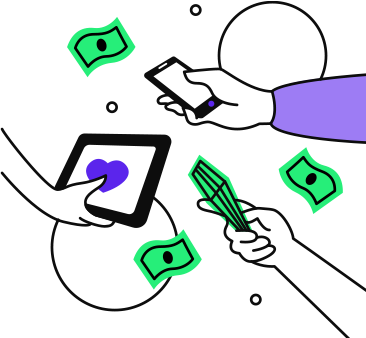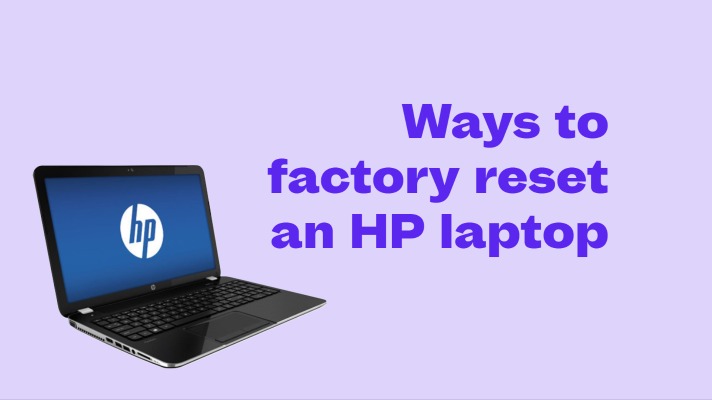 HP laptops are widely popular among PC users. They are well-designed, reliable, and affordable. And that is why the big four consulting firms often choose the brand for their office equipment.
But what if you find yourself in a situation where your HP laptop starts acting up? Or maybe you are planning to get rid of it? The easiest way to troubleshoot performance issues and get rid of any stored data is to perform an HP laptop factory reset.
HP laptops come with Microsoft Windows operative system pre-loaded by default. And regardless of your Windows version, the reset process is pretty straightforward. We will walk you through the key steps below.
Before You Factory Reset your HP Laptop
Regardless of the operative system you use, it makes sense to create a backup before resetting it to its factory defaults. You might think it is unnecessary if you intend to resell, but it is good to save your old files and data anyway. You may want to access them in the future or maybe put some of them on your new computer or another device.
We recommend using cloud storage to create a backup. This way, you can access your data anywhere where there is internet or LTE. The most popular free options are Google Drive, iCloud, Microsoft OneDrive, and Dropbox (Basic). But the good ole external hard drive will work too.
Ways to Reset Your HP Laptop
There are basically two main ways to perform an operative system reset:
By accessing an HP factory recovery partition. Depending on the HP laptop model, the wording for it can vary, but you will be using an HP Recovery Manager. Please note: this method only works if you never erased your laptop's storage drive in the past. It is your best option when the computer no longer loads the desktop screen.
Resetting the system using Windows Settings. This method will work if you no longer have a factory recovery partition. But to perform a reset in Windows, your laptop must boot up and run normally.
HP Recovery Manager
The hidden HP recovery partition allows you to restore the system and its drivers to the original out-of-box state. This partition is pre-loaded by HP on your laptop's storage drive, and if you happened to wipe the drive or replace it at any point, the partition is lost. Which means this recovery method will not work.
But let's assume no modifications were done to your hard drive and your HP Recovery Manager software is intact. Start by powering down your laptop. Then turn it back on and press the F11 key immediately. After that, the system should boot into the Recovery Manager: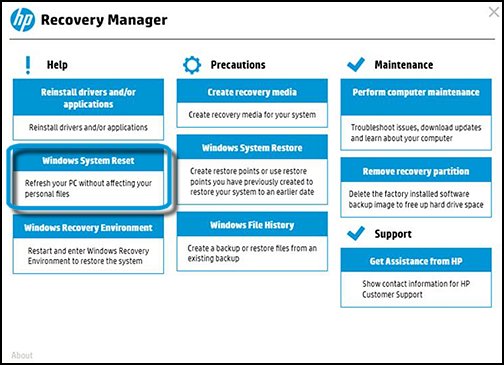 The layout may differ, depending on your HP model and year make. Still, regardless of the interface, you will have an option, usually under System Recovery, that allows you to restore your computer to its original factory condition. Select this option and follow the on-screen instructions. It will prompt you to back up your files, but if you have already done so, you can skip it and choose the Recover without backing up your files option instead.
After the Recovery Manager reformats the drive and reinstalls Windows, you can configure it and proceed to use your laptop as you normally would. Just make sure to run Windows updates once you are up and connected to the internet to make sure your computer tuns smoothly.
Factory Reset an HP Laptop in Windows 10
We will be reviewing the recovery process in Windows 10 since it is the most current OS version, with the Microsoft Windows 11 release is set for later this year. The recovery steps in Windows 8 are pretty similar, but if your HP laptop still runs Windows 7, you may want to download Windows 10 upgrade directly from Microsoft. Just make sure you install the same Windows version your computer came with originally; otherwise, it will not activate.
To reset your HP in Windows, follow these steps:
Click on the Start menu in the lower-left corner of your screen and choose Settings – Update and Security – Recovery. The "Reset this PC" option will allow you to restore your HP laptop to its factory settings.
Alternatively, you can type "reset" in the search bar in the left-hand corner of your desktop screen. Then choose the Reset this PC" to proceed with the factory reset.
Another simple way to recover any laptop brand and model in Windows 10 is to reboot the system while holding the Shift key. This feature will take you into a boot options screen from where you can choose "Troubleshoot" and reset: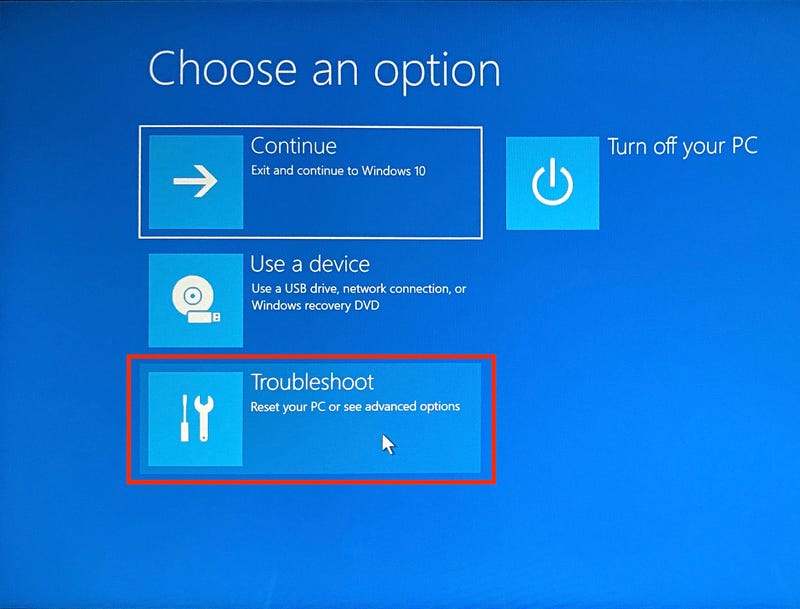 Regardless of the method you follow, please keep your HP laptop connected to the power source while performing the reset.
How to Keep your HP Laptop Running After a Factory Reset
Once you factory reset your HP laptop, it is important to keep your software and drivers up to date. This simple measure can potentially save you from future headaches and more resets. Your Windows automatically updates when new software becomes available, but it is good to run a manual check every once in a while. The easiest way to do that is to type "check for updates" in the lower-left corner search bar. Even if it says that the system is up to date, click on Check for Updates anyways. You may also want to tap on View Options Updates, manually checkmark each available driver update, and then hit Download and install. Reboot your system when prompted.
Used HP Laptop Resale Value
If your problem persists even after a factory reset, don't despair. You can still salvage some value out of it by reselling. And luckily, most used HP laptop models hold pretty good resale value over time, as long as you don't hold on to it for too long. For example, you can sell HP laptop online to us or through buy-back re-commerce platforms. And if you have a question about your used HP laptop resale value, we at Gadget Salvation are just one click away, so feel free to contact us with any questions you might have.
Final Thoughts
When your HP laptop starts to malfunction, sometimes the solution can be as simple as performing a factory reset. Regardless, it's always wise to keep a backup file for boot emergencies. That way, even if your storage drive fails and a reset is no longer an option, you'll have your data safe and ready to be transferred onto a new computer. And if you decide to sell the laptop, our HP Laptop Trade In guide will help you navigate the process.

Give your gadgets a new life
At Gadget Salvation, our mission is to contribute to the electronics reselling market as much as possible so that we extend the life of our gadgets and diminish waste. Our process is simple and seamless.
Answer a few questions and get an estimate.
Ship your gadget for free.
Get paid within two business days of our receiving your gadget.