How to Sell a Gaming Laptop?
Give your gadgets a new life.

At Gadget Salvation, our mission is to contribute to the electronics reselling market as much as possible so that we extend the life of our gadgets and diminish waste. Our process is simple and seamless.
Answer a few questions and get an estimate.
Ship your gadget for free.
Get paid within two business days of our receiving your gadgets.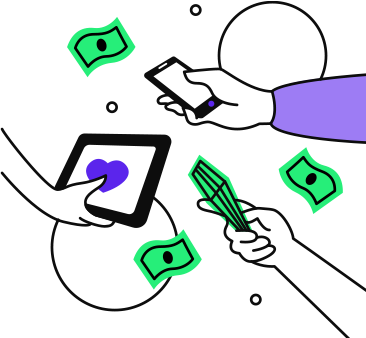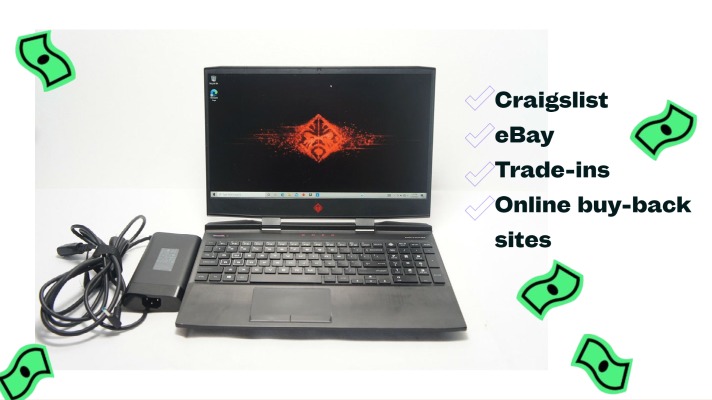 Say you have an older MSI gaming laptop, or maybe be an Alienware, and you want to get rid of it. And because it's a gaming laptop, even if an older one, it is likely to be still worth something. And there are several sites and marketplaces you can turn to for a price estimate and even sell your computer. We will review some of the most popular selling platforms below.
We recommend checking our Most powerful gaming laptops of 2021 review for those looking to get a newer gaming laptop model. And if you are a gamer on a tight budget, our Best gaming laptop under $500 post might interest you.
Without further ado, here is our pick of reselling platforms.
Selling Your Gaming Laptop on eBay (Risk Level: High)
Many people understandably turn to eBay: the platform has a worldwide reach so that you can reach a large number of potential buyers. There are few things to know about selling on eBay, however.
It works best if you already have an account and some experience selling and shopping on eBay. New applicants, however, must provide their social security number and bank account information to register an account as of 2020. And most people are not comfortable sharing this, especially if they don't intend to use eBay going forward.
eBay also charges a fee: 12.55% of the total sale price plus 30 cents transaction fee. It may not sound like a lot, but you will feel that when you sell a high-end expensive gaming laptop.
If you want to sell your laptop quickly, consider offering free shipping. It would be wise to also ask for signature confirmation and maybe even purchase insurance.
But one of the most severe issues to watch out for when selling on eBay is fraud. Any experienced seller deals with it on a regular. The platform offers very generous buyer protection at a seller's expense, and unfortunately, many people take advantage of that. What's even more upsetting is that eBay always sides with the scammer buyer. We have experienced this first-hand more than once: still, to this day, eBay is not the safest platform for sellers.
Sell Your Gaming Laptop on Craigslist (Risk Level: High)
On Craigslist, you can only reach buyers in your area. But the good news is that you don't have to create an account to sell. There are also no selling fees.
Craigslist might be a good option if you are selling an older low-cost gaming laptop. That's because people on Craigslist usually look for inexpensive stuff, so the process of selling a newer computer model might take a while.
You might get comfort in knowing that you get to meet the interested party and have some level of control if anything goes awry. But that does not mean you shouldn't be extra cautious when dealing with people from Craigslist. Always arrange for a meeting in a public place, preferably in the daylight. Ask for a cash payment. Under no circumstances accept a check. Electronic payments like Zelle or Venmo usually cannot be reversed and therefore considered safe, but you might not want to volunteer your account user info to a stranger.
Manufacturer Trade-In Program (Safe)
Depending on your laptop make, you might be able to take advantage of the manufacturer trade-in. But not all brands have one in place. For example, brands like Dell (Alienware) and Lenovo allow trading in older devices for a store credit or a gift card. We checked back with HP, and it appears that their trade-in program is no longer live. Yet, gaming whales like MSI, Razer, and Asus currently don't offer this type of service.
If you are looking to upgrade your older gaming model and are okay with the gift card as a form of payment, we suggest checking Best Buy Trade-in instead. They accept a number of brands, and if you shop at the store frequently, it might be an easy way to offset the cost of your new purchase.
Online Buy-Back Sites (Safe)
The tech industry is booming, and so is re-commerce. Buy-back websites allow sellers to bypass the entire listing process, avoid any selling costs and remove the need for customer support as a seller or in-person dealings altogether. Here you sell your pre-owned gaming laptop to the buy-back site directly. Selling to a company directly means they will give you an upfront estimate (usually done online), cover shipping expenses, and will get you paid in the form of a cash payout. It is worth clarifying that you will not be mailed actual cash banknotes in an envelope. That simply would not be feasible. Instead, the dollar payment will be issued in the form of a check or processed electronically (think PayPal, Venmo, etc.).
Quite a few companies buy pre-owned tech online, and, usually, they have a much more extensive purchasing database than Best Buy or other trade-ins. So when choosing a reseller website, be sure to look up their credentials, check what other customers are saying about using their services. It is also important to ask any questions you might have before you commit to anything.
We at Gadget Salvation also buy used gaming laptops and more! To sell a gaming laptop, simply visit our homepage and start typing your brand and model in the search bar. And even if the reach came empty, don't despair! Please chat with our Live Support agents (that purple chat icon in the lower right corner of your screen) about helping you with the valuation, or contact us via email.
We guarantee a quick and safe sale and a speedy payment via PayPal, Venmo, Zelle, or check. We will also make sure that your unwanted gadget is repurposed. So nothing ends up in the landfill!
In Conclusion
Trading in your older computer for a store credit or selling it for cash is always a good idea, as not only it helps you to offset your expenses a little bit, but it is also good for the planet. By reselling used technology, you extend its lifespan and therefore reduce your carbon footprint. Many of you might have an older laptop sitting around collecting dust right now, so why wait before it becomes obsolete? Visit our website and get a free estimate today!

Give your gadgets a new life
At Gadget Salvation, our mission is to contribute to the electronics reselling market as much as possible so that we extend the life of our gadgets and diminish waste. Our process is simple and seamless.
Answer a few questions and get an estimate.
Ship your gadget for free.
Get paid within two business days of our receiving your gadget.