Best Places to Sell Used Electronics
Give your gadgets a new life.

At Gadget Salvation, our mission is to contribute to the electronics reselling market as much as possible so that we extend the life of our gadgets and diminish waste. Our process is simple and seamless.
Answer a few questions and get an estimate.
Ship your gadget for free.
Get paid within two business days of our receiving your gadgets.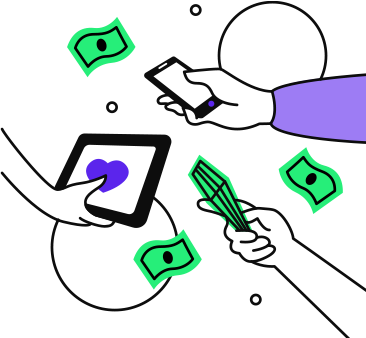 Isn't a question about the best places to sell used electronics somewhat subjective? Doesn't everybody's opinion differ? For example, if you have had a bad time selling on eBay, you wouldn't recommend it as one of the best places to sell stuff. In truth, there are few decent options for those who are looking to resell their preowned gizmos.
Selling Smaller Items with Classified Ads
If you use online ads and talk to people one-on-one, then perhaps selling some of your smaller and less expensive items using classifieds is a good idea. There are still plenty of these websites, with Craigslist being the largest one. They often have online platforms to communicate through a messaging system rather than disclosing your actual phone number or email address. It is probably not the best place to sell expensive high-end electronics. But smaller items of lesser value may be worth selling through classified ads.
Selling Used Electronics on eBay
Frankly, we have reached a stage in history where selling items on eBay is mainly for businesses and not for private citizens. As a result, registering and verifying new seller accounts became somewhat complicated. So, if you are a one-time seller, ask yourself: do you really want to share your personal and bank information with eBay?
The process is weighted so heavily in favor of the buyer. For example, your buyer can claim they never received the purchase or claim an electronic device broke in the mail. And that is a no-win situation for a seller.
There is almost no protection for sellers, especially when many shipping companies will not cover things like displays due to the high likelihood of damage.
Yet, with eBay, you can reach a wider audience. After all, the marketplace is notoriously known as a source for preowned technology. So whether you are looking to buy or sell, eBay is usually one of the first things that come to everyone's mind.
Using a Recycling Company
Some of the older, outdated electronics can be tough to sell. While there is certainly a market for antiquated Macs (like vintage Macintosh PCs or even iBooks), many electronic gadgets, older than 8-10 years, are mostly worthless. So instead of dumping your old stuff and polluting the landfills, or having it listed on eBay to no result, why not recycle it? Aside from the apparent merit, you will also feel good about yourself taking the stand and being green, trust us!
States usually have local government-run recycling programs in place. But there are also plenty of private companies that would take your stuff in for proper utilizing. The only downside is that most businesses do charge recycling or a pickup fee. But, on the other hand, you can get a nice tax write-off. And if you have smaller electronics, Best Buy will recycle up to three devices per household per day, free of charge. To find the nearest recycling facility, please visit the Recycling Nation site or download the app on Google Play.
What About Local Places?
If you follow our blog, you probably know that we covered the topic of reselling preowned technology near you pretty extensively. By now, you are likely aware of at least s few ways to sell things locally. And if you live in a big city, like Chicago, Miami, or Boston, reselling used electronics may be a little easier, as your listing targets a larger number of people. Besides, you can always take advantage of a local pickup, where the buyer comes to your place to collect their purchase. But if you live in a remote area, selling can be a challenge. You may want to consider offering free shipping for an item you sell. This will dramatically increase the number of potential buyers.
Still, if you choose this option, local businesses may accept used tech (think computer repair shops). A typical example is those small companies that buy old and broken washing machines for scrap. There are often a few of them in just one town. Then there are the pawnshops and other small electronics stores that will usually buy your used stuff or allow you to trade it in. The problem is that they often give you the lowest price imaginable.
Perhaps the good idea is to try selling locally to a private reseller. And if that does not work, well, there are always online buyback sites, like ours, Gadget Salvation. That way, you don't have to deal with your unwanted computers, smartphones, and tablets for an overly long time. Plus, you are likely to sell your stuff for more money as opposed to a local store. This is because any storefront has to cover its costs for staying open. Plus, they have to account for the possibility of never being able to sell your device(s).
What are the Best Places to Sell Used Electronics Like Laptops Online?
As mentioned above, many online re-commerce buyback sites can facilitate a quick laptop sale. While some sites specialize in buying certain brands, like Apple, others will accept various makes, models, and even types of electronics.
Using a buyback company has many benefits, but some of the most obvious are:
If your laptop model is accepted, you can get a fair market price, unlike local pawnshops.
The sale is almost instant.
The selling process is hassle-free.
Many offer electronic forms of payment, so there is no need to wait for the check to arrive in the mail.
So, to sum it up, here you don't have to wait weeks or even months for the item to sell. You do not have to worry about your buyer returning the device. There is no risk of a bank chargeback—none of the usual troubles that come with selling your goods on marketplaces like eBay. Online buyback is a safe route. Just make sure to pick a reputable company (BBB accredited and well-regarded by other sellers). Besides, when you shop around for prices to sell your used laptop, most sites will give you an upfront dollar offer.
Bottom Line
So is there a single best place to sell used electronics? Probably not, as it is very subjective. Some platforms are perhaps more suitable for selling certain types of electronic gadgets than others. Picking the best place also largely depends on the seller's objective. For example, some might be looking to sell their gear for the most money, while others just want to get rid of their unwanted tech efficiently. Regardless, our team of seasoned re-commerce wizards is a click away. So please feel free to contact us to assist you with any selling questions you might have.

Give your gadgets a new life
At Gadget Salvation, our mission is to contribute to the electronics reselling market as much as possible so that we extend the life of our gadgets and diminish waste. Our process is simple and seamless.
Answer a few questions and get an estimate.
Ship your gadget for free.
Get paid within two business days of our receiving your gadget.