How to Sell a Used iPhone in 2023
Give your gadgets a new life.

At Gadget Salvation, our mission is to contribute to the electronics reselling market as much as possible so that we extend the life of our gadgets and diminish waste. Our process is simple and seamless.
Answer a few questions and get an estimate.
Ship your gadget for free.
Get paid within two business days of our receiving your gadgets.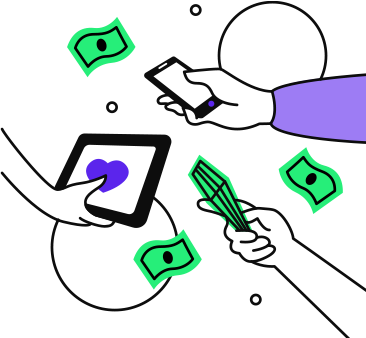 In an age where technology advances at a breakneck pace, keeping up with the latest trends and innovations can be both exhilarating and expensive. Fortunately, a smart way to stay ahead of the curve without breaking the bank is to sell your used iPhone for cash before you upgrade.
Reselling used smartphones and other gadgets has become increasingly popular for several reasons. For one, an iPhone is a valuable asset waiting to be cashed in. And today, the process of selling your iPhone has never been easier. Why? Because of many online tools and platforms that connect sellers with eager buyers.
In this post, we'll focus on how to sell a used iPhone in 2023, exploring the best options for a smooth and profitable transaction.
Selling your Used iPhone: 4 Reasons Why it's a Good Idea
When it comes to your older iPhone model, there comes a time when you might contemplate parting ways. While it's served you well, the latest models' allure and impressive features can be enticing.
But why should you consider selling your used iPhone? Here are the four most compelling reasons:
Upgrading to the Latest One: iPhones evolve rapidly, with each new release boasting improved cameras, faster processors, and cutting-edge technology. Selling your current model can help offset the cost of upgrading to the latest iPhone. It allows you to enjoy the most advanced features without breaking the bank.
Cash in Hand: Your used iPhone holds intrinsic value. By selling it, you can put some extra cash in your pocket. Whether you're saving for a rainy day or planning a well-deserved vacation, the funds from your old device can come in handy.
Exploring Other Brands: Perhaps you're considering a change and want to explore what other smartphone brands have to offer. Selling your iPhone provides the financial flexibility to switch to a different brand and experience a new mobile ecosystem.
Reducing Electronic Clutter: Unused electronics can clutter your space and collect dust. Selling your iPhone not only declutters your life but also ensures that someone else can benefit from a device that still has plenty of life left in it.
In the following sections, we'll delve deeper into the options available for selling your iPhone and guide you through the process, making it a breeze to turn your used device into a valuable asset.
How to Sell or Trade an iPhone in 2023: What are your Options
If you've decided that it's time to part ways with your iPhone, you'll find several avenues to explore. Each option has certain pros and cons. Here are the primary methods for selling or trading your iPhone:
1. Sell Your iPhone to a Third-Party Marketplace
In 2023, Selling a used iPhone to a reputable third-party marketplace is a secure and hassle-free option. Platforms like Gadget Salvation make the process straightforward. You simply need to provide details about your device's model and condition, receive an instant estimate, ship your iPhone, and get paid. These marketplaces are known for their reliability, ensuring you receive a fair price for your device while minimizing the risks associated with online sales.
Why Choose a Third-Party Marketplace?
There are several reasons why opting for a third-party marketplace is a wise choice:
Safety and Reliability: These marketplaces have established trust and credibility within the industry, ensuring a secure transaction.
Convenience: The process is straightforward and streamlined, with minimal effort required on your part.
Fair Value: You'll receive a fair and competitive price for your iPhone, ensuring you get the most out of your device.
2. Trade-In Your iPhone
Trading in your iPhone can be a convenient way to upgrade to a newer model. Many physical and online stores offer trade-in programs. These programs allow you to exchange your old iPhone for a newer model (think Apple Trade-in). Some other programs like Best Buy Trade-In will even allow you to get an entirely different electronic device like a Surface Pro tablet or even a desktop computer.
You'll receive store credits or a discount to cover the cost difference, making it a smart choice if you're looking to replace your device.
Benefits of Trading In Your iPhone:
Maximizing Returns: Trade-in programs typically offer competitive values for your device, ensuring you get the most value in return.
Simplicity: The trade-in process is easy and straightforward, with store credits or discounts applied directly to your purchase.
3. List Your iPhone on Online Marketplaces
If you're looking to potentially earn more from your iPhone sale, listing it on online marketplaces is an alternative option. Platforms like Facebook Marketplace, eBay, and Craigslist allow you to connect with individual buyers. Let's have a look at the advantages and disadvantages of selling to individuals:
Pros:
Potential for Higher Profits: Individual buyers might be willing to pay a higher price for your iPhone, especially if it's in excellent condition.
Flexibility: You can set your price and negotiate with buyers to get the best deal.
Cons:
Time-Consuming: Finding the right buyer may take time, and you'll need to handle the entire sales process.
Uncertainty: Dealing with strangers from classifieds can be unpredictable, and there's a risk of encountering fraudulent or unreliable buyers.
What's The Process of Selling a Used iPhone Online?
Looking at how to sell a used iPhone in 2023, a buyback company is the fastest and most risk-free way to go. And we at Gadget Salvation pride ourselves on being such a platform.
Here's a breakdown of the straightforward process you'll need to follow to sell your used iPhone via Gadget Salvation:
Find Your Gadget Model: Visit the Gadget Salvation website and locate your iPhone model from the list provided. This step ensures that you'll receive an accurate estimate based on your device's specifications.
Assess Your Device's Condition: Describe the condition of your iPhone honestly. Gadget Salvation typically categorizes devices as "Excellent," "Good," "Fair," or "Poor." Accurate information ensures you receive the fairest offer for your device.
Receive an Instant Estimate: You'll receive an instant estimate after providing details about your smartphone's model and condition. This estimate gives you a clear idea of the value of your used Apple iPhone.
Ship Your Phone: If you decide to proceed with the sale, Gadget Salvation will provide you with a prepaid shipping label and shipping instructions. Simply package your iPhone securely, attach the label, and send it to Gadget Salvation. But before you do, please make sure to remove your passcode, face ID and fingerprint scans, turn off the Find My Phone app, and log out from iCloud. Gadget Salvation does not accept locked iPhones.
Inspection and Payment: Once your phone reaches our facility, it will undergo an inspection to verify its condition. If everything checks out, you'll promptly receive your payment through your preferred method, whether it's via PayPal, check, Zelle, CashApp, or Venmo.
Enjoy Your Payment: With the sale completed, you can enjoy the cash you've received for your used iPhone!
By following these steps, you can sell your used iPhone with confidence, knowing you're working with a trusted platform that values your satisfaction and offers competitive prices for your used iPhone.
Wrap-Up
As you can see, selling your used iPhone in 2023 has never been easier. Whether you are upgrading to the latest iPhone 15 model or reselling for cash, there are tools out there to accomplish both.
This article has explored the various options available, from selling on third-party marketplaces like Gadget Salvation to trading in your device and listing for sale yourself.
However, the ease and reliability offered by platforms like Gadget Salvation make them the most popular choice. With a straightforward process, you can sell your iPhone online for cash and enjoy the convenience of a secure transaction.

Give your gadgets a new life
At Gadget Salvation, our mission is to contribute to the electronics reselling market as much as possible so that we extend the life of our gadgets and diminish waste. Our process is simple and seamless.
Answer a few questions and get an estimate.
Ship your gadget for free.
Get paid within two business days of our receiving your gadget.