Laptop Buying Guide 2022  
Give your gadgets a new life.

At Gadget Salvation, our mission is to contribute to the electronics reselling market as much as possible so that we extend the life of our gadgets and diminish waste. Our process is simple and seamless.
Answer a few questions and get an estimate.
Ship your gadget for free.
Get paid within two business days of our receiving your gadgets.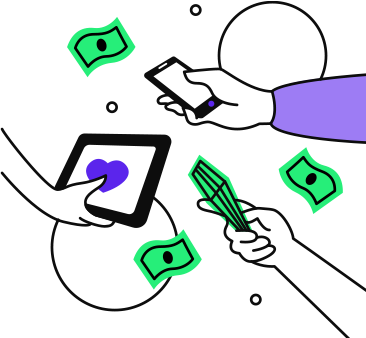 Are you ready to replace your old laptop with a new one? Then this is the ultimate laptop buying guide you should read in 2022.
Nowadays, there are laptops from many brands with different screen sizes, designs, hardware features, and price tags. So it's understandable if you feel overwhelmed.
Our blog post will look at all the specifications you should look for when buying a new laptop. The right choice depends on your needs and preferences.
Let us find the best laptop for you!
Buying a New Laptop: The 5 Main Specs you Should Focus On
Even though there are a variety of laptop specifications you can look out for, there are some that simply cannot be overlooked.
The most important features that will help you choose a new laptop are the operating system (OS), screen size and functionality, hardware features, accessories, and, of course, budget.
1. Operating System
The market is full of the responsive, well-crafted OS. But, Windows and Mac are definitely the most popular choices for laptops.
1.1 Windows vs. macOS
With its user-friendly interface and lightweight applications, the latest Windows 11 is a good choice for business and gaming laptops. The Windows desktop is the easiest way to navigate a laptop's features.
On the other hand, Apple's macOS is also a reliable choice, especially for creatives. With its high functionality, unique gestures and keyboard shortcuts, and numerous apps developed specifically for macOS (e.g. Procreate), macOS is the only OS that truly rivals Windows. For this reason, the latest Macbooks are the best choice for designers, photographers, etc.
1.2 Other Solutions
Windows OS and macOS are not the only OS options you have when buying a new laptop. Other interfaces like Chrome OS, Linux, Android, and iOS have their small share of the pie. Chrome OS laptops (Chromebooks) have a similar interface to Windows but are more beginner-friendly and lighter.
Of course, a Chromebook limits the user to certain tasks like web browsing. Linux is a niche product OS, which is required for certain software and applications. Finally, some Android and iOS 2-in-1 tablets (iPad Pro, Samsung Galaxy Tab S8, etc.) can support most laptop functions.
2. Size, Design, and Functionality
After you have chosen the best OS for you, it's time to narrow down your options based on screen size and design. For example, if you need a laptop for gaming, you should opt for a large screen (15.6″ or more).
On the other hand, if you are on the go a lot, browsing the web and mobility are probably your main concerns. In this case, a smaller screen (up to 14 inches) and a slim design is all you need.
At the same time, 2-in-1 tablets/laptops offer the possibility to use a device in different ways (touchscreen, display movement, detachable keyboard, etc.). This is why a flexible device like the latest Microsoft Surface 8, is a great choice for editors, animators, designers, etc.
3. Hardware
Laptop buying can be tedious, especially when it comes to internal hardware specs. Because the hardware equipment of your new laptop has a great impact on its capabilities. The CPU, graphics card, RAM, and memory also determine the price of a laptop. Let us take a look at these features in detail:
3.1 CPU
The market is full of entry-level, mid-range, and high-end CPUs for laptops. For example, the latest Intel Core i9 and the Xeon CPU can handle just about anything you put in front of them.
On the other hand, entry-level CPUs like the latest Intel i3 and AMD Ryzen 3 are much cheaper but have certain limitations regarding gaming and multitasking. It becomes clear that choosing the right CPU depends entirely on your daily requirements.
3.2 GPU
Nowadays, most laptop CPUs are equipped with integrated graphics. This means that you no longer need a dedicated GPU on your laptop for running applications, multitasking, or browsing the internet.
Yet. dedicated GPUs are included in mid-range and high-end gaming laptops. Typically, a GPU is needed for demanding gaming and editing applications. NVIDIA graphics cards like the new RTX 3080 or AMD chips like the RX 6600 are currently among the best GPUs.
3.3 RAM
The RAM is nothing more than a disk that stores the non-permanent data of the applications you run. The truth is that most users will get by with 8 GB RAM. And 16 GB RAM suffices for extensive multitasking, casual gaming, and most editing applications. Only software engineers and designers, as well as pro gamers, will require 32GB or even 64GB of RAM.
3.4 Internal Storage
Contrary to what many believe, internal storage (HDD or SSD hard drive) plays an important role in the laptop's overall performance. A modern SSD drive is many times faster than a conventional HDD. Regarding storage space, a 512 GB SSD is more than sufficient for most average users.
4. Ports and Accessories
The laptop you choose should offer at least 2 USB ports, an HDMI port, an audio jack, and Bluetooth support. These are the minimum requirements you should look out for. Do not forget that connectivity is very important in the long run. The same goes for accessories.
The quality of the integrated webcam is important for those who host or attend Zoom/Skype meetings. Finally, if you choose a 2-in-1 tablet, always check if the detachable keyboard is included.
5. Budget
Whether you have a budget of $200 or $3000, the market has the laptop you are looking for. The truth is that the more you pay for a laptop, the better the quality. But remember that choosing a laptop depends entirely on your needs. Depending on your needs, you can choose one of the following budget categories:
Entry-level laptops ($250-$600): These laptops can handle basic apps (e.g. Microsoft Office), browsing, and light multitasking. Entry-level laptops are the best for students and non-demanding users.
Mid-range laptops ($600-$1100): Mid-range laptops vary. At this price tag, you will be able to find a relatively strong hardware kit that will cope with most modern games and demanding apps. 9 out of 10 users will be more than satisfied by the performance of mid-tier laptops and 2-in-1 tablets.
High-end laptops ($1100+): You will find the most portable and powerful laptops in this category. At the same time, high-end laptops include the best gaming laptops on the market. This category is perfect for gamers, developers, designers, and demanding users.
Should you Replace your Old Laptop in 2022?
Budget can play an important role when buying a new laptop. Especially if you need a relatively expensive notebook like the latest Alienware x17 R2.
The good news is that in 2022, you have the option to sell or recycle your old laptop. If your old device is still functional, you can sell it to Gadget Salvation. The whole process is very simple. You must search for your laptop, choose your model and configuration and see our offer.
So, if you feel that your old device no longer meets your needs, there are some ways to save money and save the environment simultaneously.
Lastly, you don't have to spend a fortune on a newer notebook model anymore. Consider buying a used computer instead. Not only will you be paying 40-80% less than in retail stores, but also extending the lifespan of that gadget for at least another three years. Choosing pre-owned tech over new is a great way to both save some money and be mindful of the environment.
Wrap Up
Once you have followed the steps above, you will be able to find the right balance between the specifications you need (OS, style, hardware, connectivity) and the budget you have set aside for your new laptop. We hope this guide helped you choose the best laptop for your needs!

Give your gadgets a new life
At Gadget Salvation, our mission is to contribute to the electronics reselling market as much as possible so that we extend the life of our gadgets and diminish waste. Our process is simple and seamless.
Answer a few questions and get an estimate.
Ship your gadget for free.
Get paid within two business days of our receiving your gadget.