The Top 5 Worst iPhones of All Time
Give your gadgets a new life.

At Gadget Salvation, our mission is to contribute to the electronics reselling market as much as possible so that we extend the life of our gadgets and diminish waste. Our process is simple and seamless.
Answer a few questions and get an estimate.
Ship your gadget for free.
Get paid within two business days of our receiving your gadgets.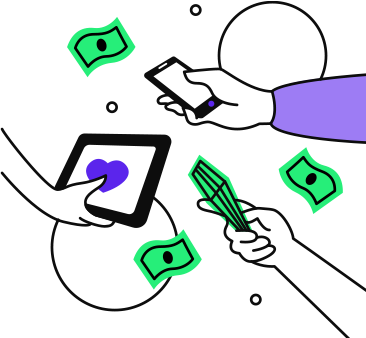 The iPhone has remained one of the most successful smartphones ever designed. However, not all iPhones have been received positively by the public. Some were criticized for their design, features, and performance. In this post, we'll take a closer look at the top 5 worst iPhones ever released.
Apple Inc., is known for its innovative and user-friendly devices. The brand has been at the forefront of the smartphone industry ever since the introduction of the first iPhone in 2007. Over the years, the company has consistently pushed the boundaries of technology, redesigning and redefining what a smartphone can do.
Many users pick an iPhone over other smartphone brands because of its polished and sleek design. Others value a seamless, user-friendly interface and state-of-the-art technology. However, not every iPhone model has hit the mark. Although we know Apple for high-quality products with groundbreaking features, there have been instances where certain models have fallen short of public expectations. This article delves into an unusual topic: the 5 less successful (or even the worst) iPhones.
1. Apple iPhone 5c
Launched in 2012, the iPhone 5c marked a significant design shift from its predecessors with its aluminum body and taller 4-inch display. It was the first iPhone to support LTE, a faster version of 4G, and also introduced the new Lightning connector, replacing the old 30-pin dock connector.
Despite these improvements, the iPhone 5 was not without its shortcomings. The most prominent among them was the widely reported "scuff gate" issue, where owners complained that the phone's aluminum casing was prone to scratching and chipping, even with normal use.
Moreover, the new Maps application that replaced Google Maps essential features. Lastly, some users reported Wi-Fi connectivity issues, which Apple later acknowledged and attempted to fix with software updates.
2. iPhone 6 Plus
The iPhone 6 Plus, launched in 2014, was Apple's first foray into the 'phablet' market. Its 5.5-inch HD screen made the 6 Plus model ideal for those who consume a lot of media. At the same time, power users saw an improved battery life.
The introduction of optical image stabilization in the camera was also a significant upgrade that improved photo quality considerably.
However, despite these positive attributes, the iPhone 6 Plus was not without its drawbacks. The most notorious of these was the 'Bendgate' scandal. You may remember how some users reported that their phones bent when kept in their pockets for extended periods.
It was heavily criticized for its considerable weight and thickness. This bending often led to a touch disease where the screen would become unresponsive or display flickering grey bars. Furthermore, its large size made it difficult for some users to handle. Besides the higher price tag of the iPhone 6 Plus at the time was a point of contention for many.
3. iPhone X
The iPhone X, introduced in 2017, was somewhat of a bold move for Apple. The model saw a radical redesign that did away with the signature home button. It also introduced an all-screen front display, a first in iPhone history. 2017 iPhone also brought us Face ID, facial recognition technology for secure authentication, and Animoji.
The OLED Super Retina display offered stunning colors and sharper image quality, and the A11 Bionic chip, touted as the most powerful chip in a smartphone at that time, delivered exceptional performance and efficiency.
However, the iPhone X wasn't without its fair share of issues. The most prominent criticism related to its high price tag, making it the most expensive iPhone ever released at that point. Some users found the new gesture-based navigation to be confusing and less intuitive compared to the traditional home button.
Many thought that the notch, housing the front camera and face ID technology, ruined the iPhone's aesthetic. Users also reported problems with the phone's durability, with many experiencing cracked back glasses. Lastly, the removal of Touch ID, which was a reliable and popular feature, wasn't well-received by all users.
4. iPhone 11
The 2019 iPhone 11 was set to be a more affordable smartphone. And given its price point at the time, the lineup did pack a solid punch of features.
The device housed a dual-camera system, offering a wide and ultra-wide perspective – a first for iPhones. It also showcased an impressive battery life that outlasted its predecessors. Users appreciated the addition of the Night Mode, as it significantly improved low-light photography.
However, the iPhone 11 was not without its flaws. The most glaring issue was the continuation of the notch design, which had been a point of criticism since the iPhone X. It was a significant drawback considering the overall size of the phone.
Many users found it to be intrusive and felt it marred the aesthetic of the phone's display. Furthermore, the iPhone 11's display resolution was lower than that of its competitors; it maintained the Liquid Retina HD display instead of opting for a sharper OLED. This led to a less crisp and vibrant visual experience. Lastly, the iPhone 11 lacked the 5G support that was becoming increasingly standard in smartphones around the time of its release.
5. iPhone 12 Mini
Launched in 2020, the Apple iPhone 12 Mini, despite its compact size and lower price tag, failed to meet the expectations of many Apple fans.
Its major drawback was its considerably smaller battery, which resulted in shorter battery life. This fact made it less suitable for power users who need a phone that can last a full day on a single charge.
Furthermore, the device lacked a telephoto lens, which is a significant downside for anyone interested in photography. This meant that users could not take high-quality zoomed-in photos, limiting the phone's camera versatility.
Moreover, some users found the phone's small size to be uncomfortable, especially for those accustomed to larger, more modern phone displays. This made activities like browsing the web, gaming, and watching videos less immersive and enjoyable.
Finally, the iPhone 12 Mini, like its predecessors, continued with the controversial notch design, which proved to be aesthetically displeasing for many. Despite its lower price point in comparison to other models of the iPhone 12 series, these shortcomings made it less appealing to potential buyers.
Not Happy with Your iPhone? Sell it on Gadget Salvation
OK, so maybe your Apple iPhone is not the worst. But if you're considering upgrading to a newer model or want to try a different smartphone brand, selling your used iPhone on Gadget Salvation could be an excellent option to offset the cost of your upgrade. Gadget Salvation is a trusted online platform that offers a hassle-free reselling process for pre-owned electronics, including Apple iPhones.
To start, simply visit the Gadget Salvation website and select 'iPhone' under the 'Sell' menu. Then, find your specific iPhone model from the list. You'll be prompted to answer a few questions about the phone's condition and functionality. Based on this information, the platform will provide an instant offer. If you choose to proceed, they will provide you with a prepaid shipping label to send your smartphone in.
After they receive your iPhone and verify its condition, you'll receive payment via check, PayPal, Zelle, CashApp, or Venmo–whichever you prefer. With Gadget Salvation, you can ensure your outdated iPhone finds a new home while you enjoy the benefits of your new upgrade.
Conclusion
In conclusion, the iPhones that we have discussed above received both positive and negative feedback from users and critics. These phones came with unique features, but they were also plagued with many issues, such as battery life, screen quality, design, and build quality.
Therefore, the consumer experience with iPhones was not the best in each case. Nonetheless, Apple's drive to innovate and create better phones has given users a reason to love iPhones for over a decade.

Give your gadgets a new life
At Gadget Salvation, our mission is to contribute to the electronics reselling market as much as possible so that we extend the life of our gadgets and diminish waste. Our process is simple and seamless.
Answer a few questions and get an estimate.
Ship your gadget for free.
Get paid within two business days of our receiving your gadget.