New Asus ROG Gaming Laptops Revealed At CES 2021
Give your gadgets a new life.

At Gadget Salvation, our mission is to contribute to the electronics reselling market as much as possible so that we extend the life of our gadgets and diminish waste. Our process is simple and seamless.
Answer a few questions and get an estimate.
Ship your gadget for free.
Get paid within two business days of our receiving your gadgets.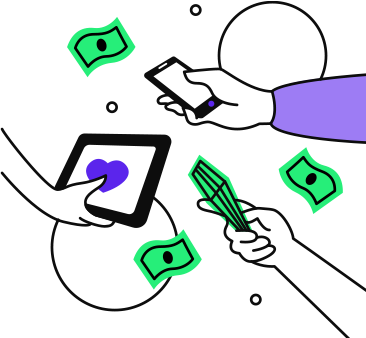 A new series and upgrades of gaming laptops were announced at the virtual conference CES 2021.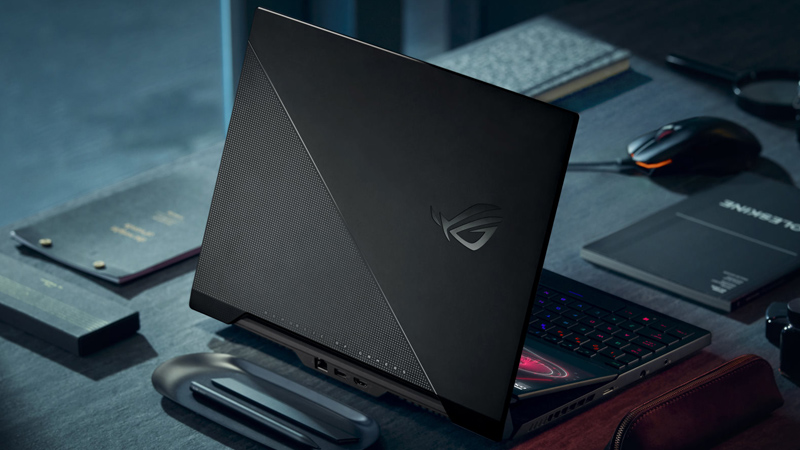 ASUS ROG has revealed a wide range of new gaming laptops, as well upgrades to some of their existing lines, at the virtual CES 2021 event. The highly anticipated ROG Flow X13 AMD powered laptop is among those laptops.
Moreover, ASUS refreshed their flagship convertible model, Zephyrus DUO, and and some others, with the latest-generation processors, vivid displays and cutting-edge designs. Let's look though some of the newest Asus ROG gaming portable computers and their most anticipated features.
Asus ROG Gaming Laptops Upgrades in 2021
Overall, the major improvements are on the display, with options that combines high resolutions, wide color gamut, faster refresh rates and quicker response time. All laptops are equipped with GeForce RTX30 Series GPU, and powered by Ampere, the second-gen of NVIDIA RTX architecture, for more realistic raytrace graphics, and advanced AI features. Also, it has AMD Ryzen 9 5000 series mobile processors to offer you the most immersive gaming experience with Zen 3 microarchitecture up to 8 cores and 16 threads, which accelerate the workloads from gaming and streaming. About thermals, the latest cooling technology for ROG gaming laptops lowers noise with a liquid metal that reshaped fans.
Summary:
ROG Flow X13
ROG Strix Scar 15/17
ROG Zephyrus DUO 15SE
ROG Zephyrus G15
ROG Zephyrus G14
ROG Flow X13
The ROG Flow X13 is the first 2-in-1convertible Asus ROG gaming laptop and is the world's most powerful and ultra-slim device. This machine gives a mix of top performance with versatile mobility with its 360° hinge, which can transform from a lightweight laptop into a tablet. With its 2.8 lb.(1.3kg) weight, you can easily flip into "tent mode" for smaller spaces, share your screen on meetings with the "stand mode", or use it as a touchable "tablet mode" with optional stylus.
About its performance, the new Asus ROG gaming laptop -Flow X13-, packs up to Ryzen 9 5900HS processor and GeForce GTX 1650 GPU for top performance. In case you need more graphics performance, there is an optional XG Mobile external GPU for high-end gaming horsepower and extra connectivity. In addition, you can use the PCI Express 3.0×8 link to connect the CPU directly to the GPU to avoid traffic into the bandwidth reserved for the GPU. Furthermore, you have the choice between 4K UHD or 120Hz FHD panels, for either ultra-crisp in detail or for a smooth gaming experience.
Overall, the ROG Flow X13 is an ultraportable, versatile, powerful and compact laptop ideally for gamers and creators.
ROG Strix Scar 15 /17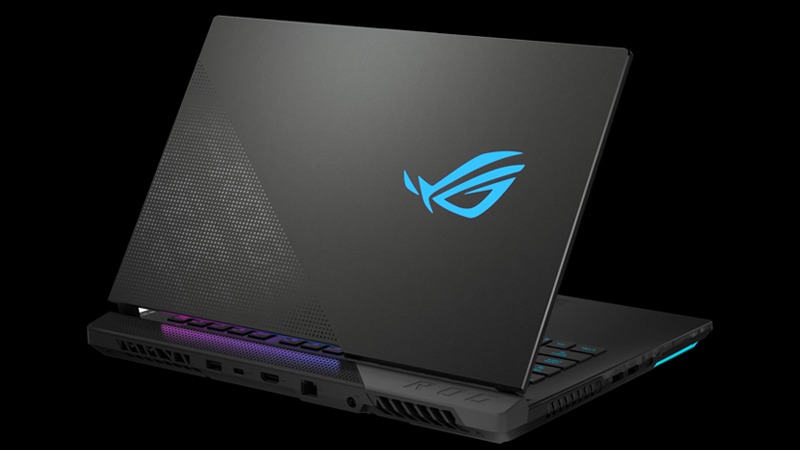 The ROG Strix Scar is a laptop made for sport gamers and hardcore gamers that are looking for top performance. The device is available in 15.6-inch, and 17.3-inch sizes. And, it's packed with high-performance internals like the latest AMD Ryzen 5000 mobile CPUs and Nvidia RTX 3000 series GPUs . Also, both models comes with up to 360Hz refresh rate display and optical mechanical keyboard, in addition to up to 64GB of RAM size. However, top speed of 360Hz/3ms is only available for the 17.3-inch model. While, the 15.6-inch model has the faster panel available at 300Hz/ ms display.
What's more, the latest ROG Strix Scar (2021) has been redesigned to make it even more portable. According to Asus, they have reduced at seven percent the footprint of the laptops. The new ROG Strix Scar design focuses on customization, which includes new RGB lighting, intense colors, thermal cover caps that can be swapped to personalize the case, and 3D printer source file to create your own designs. Battery life is also set to be more efficient due to its larger capacity with up to a 90Wh battery compared to last year 66Wh.
Overall, the Strix Scar lineup is created for esports pros gamers that want high-end performance, stylish design, and faster laptop panel for a seamless gaming experience.
ROG Zephyrus DUO 15SE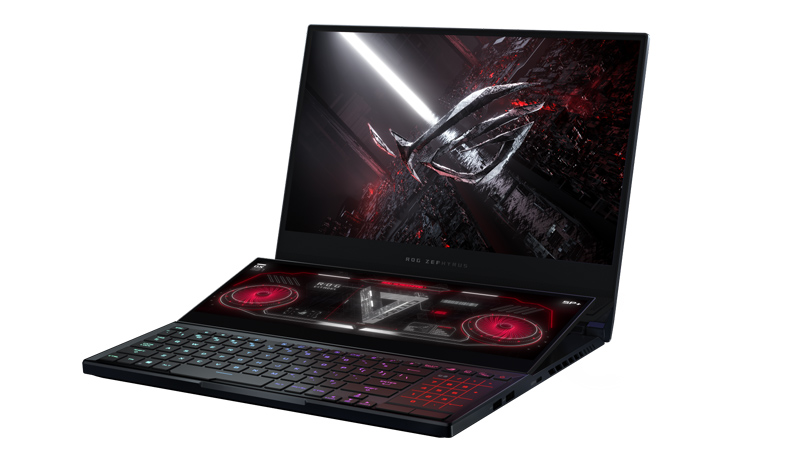 It's not a surprise that Asus ROG gaming laptop offers the best dual-screen for gaming like the Zephyrus Duo 15. This year this gaming laptop is back to prove that a second screen is beneficial, mainly for content creators and streamers, in addition to gamers.
The Zephyrus DUO 15SE is an ultra-thin device that has a second screen, which is a 14-inch IPS touchscreen in FHD or UHD resolutions. The main screen has a 120Hz, which doubles the speed of the Ultra HD display panels. The panels offer a Pantone Validated to cover the full Adobe RGB colors, for creative professionals. This additional screen supports extra menus, maps reviews, inventory options for a smooth gaming experience. But not only, it provides a competitive edge to gamers to show shortcuts while they are using the main display. Also, Asus mentioned its partnership with Xplit Gamecaster to monitor your stream on the second screen while gaming on the main screen.
Furthermore, it packs a next-gen AMD Ryzen processor along with the latest NVIDIA RTX 3000 mobile GPUs. So, putting all these things together, Asus created an extremely powerful device with cutting-edge technology available in both premium and affordable configurations.
ROG Zephyrus G14
The ROG Zephyrus G14 continues to offer a powerful yet ultraportable gaming laptop while staying accessible to every user. The 2021 version has the latest components like the new Zen 3 CPUs and Nvidia Ampere GPUs. You'll find several options when it comes to configurations. You can choose either AMD Ryzen 9 5900H processor 3.1GHz or AMD Ryzen 75800 HS processor 3.0GHz. About graphics, as well, you can get a Nvidia GeForce RTX 3060 GPU graphics or Nvidia GeForce GTX 1650. We recommend you to read our latest article about the 2021 Asus Zephyrus G14. All in all, this gaming laptop boasts a very impressive set of specs with an affordable price.
ROG Zephyrus G15
The new Asus ROG gaming laptop, the Zephyrus G15, is a light gaming laptop with top performance. This laptop combines up to Ryzen 9 500HS processor, up to GeForce RTX 3080 GPU for an impressive gaming experience. Asus, however, offers several options in terms of configurations and price. For the display, users have a 15" WQHD resolution with 165Hz refresh rate,3ms response time. Also, it has Pantone Validated panels, which balance speed and detail, for creativity and gaming. Moreover, this model has super-narrow bezels of 4.6mm for an immersive 85 percent screen-to-body ratio, and it has ErgoLift hinge, that raises the keyboard to a more comfortable angle and even tilt at 180 degrees.
Overall, the Zephyrus G15 is a versatile, light with premium hardware laptop for gamers and creators.
How Much is an Asus ROG gaming laptop worth?
So, you currently own an Asus ROG gaming laptop, but considering an upgrade? Do Asus trade in with Gadget Salvation! Here are some examples of what you can get for your Asus ROG gaming laptop, depending on the condition and the specs.
Bottom Line
Looks like the perfect timing to pick a gaming laptop? Indeed, 2021 has started with powerful announcements from ASUS ROG gaming laptops. This includes brand-new AMD Ryzen 5000 processor, RTX 30-series graphic cards. It's a well-designed, light, compact and powerful gaming laptop for creators, streamers and gamers.

Give your gadgets a new life
At Gadget Salvation, our mission is to contribute to the electronics reselling market as much as possible so that we extend the life of our gadgets and diminish waste. Our process is simple and seamless.
Answer a few questions and get an estimate.
Ship your gadget for free.
Get paid within two business days of our receiving your gadget.