How to Sell a Used Tablet For Cash
Give your gadgets a new life.

At Gadget Salvation, our mission is to contribute to the electronics reselling market as much as possible so that we extend the life of our gadgets and diminish waste. Our process is simple and seamless.
Answer a few questions and get an estimate.
Ship your gadget for free.
Get paid within two business days of our receiving your gadgets.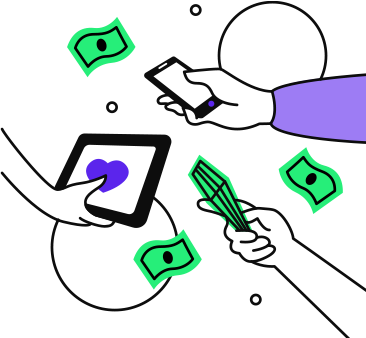 Everything you need to know about selling a preowned tablet.
Tablets tend to depreciate much faster than laptop computers. Because they are usually less expensive (unless we are talking Microsoft Surface Pro), by the end of year two of being in use, an average tablet loses about 72% of its original resale value. Therefore, it is important to upgrade on time and sell your preowned tablet while it is still worth something. And this post will guide you on how to do just that: sell your used tablet for cash.
Prepare Your Tablet for Sale
Start by prepping your preowned tablet for the new owner. It includes:
Model number verification. Knowing the exact model of your tablet, along with the configuration, will help you set your asking price on the marketplace. To locate the model, go to the Settings app and look for "About" or "General", depending on the brand.
Factory reset. Run a factory reset on your tablet before handing it over to someone else. But before you do, make sure to log out of any linked accounts first, because if you won't, the tablet will still be connected even after a restore procedure. And that means no one else can use it. Also, if you use a microSD or a SIM card with your tablet, remove them before the sale.
Assess the condition of your tablet. Inspect your tablet for scratches, nicks, and other cosmetic blemishes. Also, make notes of any known hardware defects, for example, bad pixels, poor battery life, etc. You will need to disclose those in your listing description. Finally, wipe off fingerprints and smudges to make your preowned tablet more presentable.
Find all original accessories. If you have the original box, charging accessories, manuals, make sure to include them all with the tablet.
Where To Sell Your Used Tablet?
It depends on the brand and model number of the tablet you have. Some buyback sites accept only certain brands, like Apple iPads, for example. But if you are set on selling your used tablet for cash, as opposed to trading it in and upgrade, here are your best options:
1 – Selling the tablet locally through a network of friends or posting it for sale on Craigslist, OfferUp, or Facebook Marketplace.
2 – Listing your preowned tablet on eBay. You might sell it faster here, but eBay is still somewhat a risky marketplace, especially for sellers. We recommend checking the "Is eBay safe? As a seller, this is what you should know." post before you settle on anything.
3 – Picking an online buyback site. While you are likely to get a little less for your tablet through a buyback, it is very convenient and risk-free.
4 – Donating your tablet. As long as your tablet is not too old and still functions well, you can donate it for a cause.
5 – If the tablet is older and/or no longer works, selling it for cash is unlikely. Instead, we would suggest recycling it properly to be reused for rare metals and components.
Online Buyback Services
We all shop online because it is convenient. But the pandemic has also altered how we interact with each other.
An online buyback platform can accommodate a sale transaction in the virtual space, with limited contact and maximum efficiency. If you do not want to waste time listing your used tablet on marketplaces, meeting with potential buyers, waiting for it to sell, we highly suggest looking into buyback sites. As mentioned above, some online companies take only certain tablet brands and models, but you can start by googling "sell <your tablet make and model>" to see who accepts it.
The rest is pretty straightforward. And yes, of course, each company has its valuation process and selling procedures, but we narrowed them down to the following three easy steps.
To sell your used tablet online:
Find your brand and model on the buyback site. Then, please provide information about its cosmetic and functional condition to get an offer. We at Gadget Salvation will share an estimate right the way, but some websites will ask you to submit a form and email you an offer later.
Once the offer is accepted, fill out the checkout form and send the tablet in. Most buyback sites will provide a free shipping label or will offer to pay for postage.
Wait to get paid. Most companies will issue the payment within two business days of receiving and inspecting your tablet.
In-Person Sales
Yes, in-person sales are still a thing. Furthermore, if you are not in a rush, you might even get a higher offer on your used tablet. But, there are always certain risks involved. So, regardless of the selling platform you choose, always wear a mask, meet with your buyers in well-lit and busy places, such as malls or coffee shops. If possible, have someone accompany you. And under no circumstances accept a check from a private citizen. Also, be prepared to haggle and be low-balled. Or even for a no-show. Selling a used tablet can be a tedious and time-consuming endeavor, so keep that in mind before putting it up on Craigslist or Facebook Marketplace.
Trade-in Programs
Trade-in is an excellent option for those looking to upgrade to a newer tablet instead of selling it for cash. Several retailers and manufacturers like Best Buy and Apple have both online and in-store trade-in programs. Online trade-in works very similarly to any buyback site, with you being awarded a store credit as opposed to a cash payout. Most online retailers will even have an option to add your older device to trade it in when you shop online. But keep in mind that damaged or non-functional tablets will not yield any purchasing credit and will be recycled instead.
Recycle
If your tablet model is older or broken, it makes sense to recycle it instead. Recycling facilities play a vital role in reducing e-waste. Thus, these unusable tablets can still be stripped for scrap metals that will later be reused in the manufacturing process.
Major tech retailers like Best Buy will accept old electronics for free recycling. Alternatively, you can locate the nearest recycling facility through Recycle Nation.
How Much Can You Get for Your Preowned Tablet?
The resale value for your used tablet or any other electronic device depends on the brand, model, specifications, and current demand. For example, an iPad has a better reselling value than any Samsung tablet due to higher demand. On the other hand, Microsoft Surface Pro Windows-based tablets hold just as great, if not better, resale values as Apple iPads.
Here are few price examples to give you a general idea:
In Conclusion
A preowned tablet can be hard to resell simply because tablets devalue at a much higher rate. So, the newer the model, the higher your chance of reselling it for cash or trading it in for store credit. But even if your tablet is no longer worth anything, don't despair: recycling it is easy than you think. For example, you can drop it off at Best Buy. Even some Target locations have recycling bins for smaller electronics like phones and tablets. And please feel free to reach out to us if you need help pricing your used device or just looking for suggestions on what to do with it.

Give your gadgets a new life
At Gadget Salvation, our mission is to contribute to the electronics reselling market as much as possible so that we extend the life of our gadgets and diminish waste. Our process is simple and seamless.
Answer a few questions and get an estimate.
Ship your gadget for free.
Get paid within two business days of our receiving your gadget.